Title Race Takes Another Twist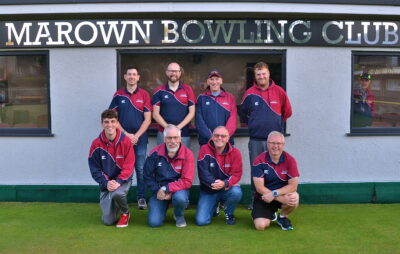 The title race took another twist in Canada Life International Division One as league leaders Marown A had an unenviable trip out West to take on Peel B in a tricky looking fixture, so it proved as the Peel men caused possibly the biggest upset of the season so far as they battled to a 6-4 win.
In the first half of the match everything was going to plan for the Crosby men as Sam Clague beat Andrew Cover 21-11, Colin Kelly won 21-12 against Gordon Corrin and Neil Withers held off Peel captain Paul Quirk 21-19. David Proctor picked up the first win of the night for the home team as a good start against Paul Kelly – going into an 8-0 lead helped his cause as he won 21-15.
In the second half of the match Dean Kipling won 21-16 against Philip Pemberton. The home team hit back as Rob Middleton beat Peter Jones 21-15, Andy Mackie won 21-14 against Phil Kelly, while Dougie Allan put the final nail in the coffin with a 21-3 victory over Harry Barton, as the Peel men won by nine chalks (142-131) to claim the aggregate.
South Ramsey A hosted Peel A on Monday evening, with the cancelled racing helping Peel avoid a tricky travel situation. The home team claimed a 7-3 win with Peter Collister winning 21-9 against Peter Greenlees, John Kennish won 21-14 against Brian Lindsay, while Glynn Hargraves edged home 21-19 against George Gadsby. Tommy McMeiken claimed Peel's first win as Jordan Cain battled back from a 12-20 deficit only for the latter to lose 18-21.
Dave 'Barney' Kelly picked up the visitors second win as he romped home 21-4 against Stefan Kelly, while Bob Clark won 21-10 for the Ramsey men. James Teare recovered from a 13-17 deficit to run out with a 21-17 win over Mick Kavanagh, while Peel captain Gary Smith picked up their third win of the night as he recovered from 6-14 to win 21-16 against Steven Waters. The result together with Marown's shock defeat meant South Ramsey hit top spot by a point in what is turning into one of the most exciting title races in years.
North Ramsey A won 9-1 at Mooragh Park against Port Erin A, as the visitors are destined for an immediate return to Division Two, along with Onchan B who lost 2-8 against their higher ranked A Team. Marown B were missing a few of their regular players, however this didn't stop them winning 7-3 at home to Douglas A.
The closest match of the night was between Port St Mary A and Castletown A with the home team edging it 6-4 thanks to claiming the aggregate by just two chalks (149-147) with both teams winning and losing games 21-19 and 21-20. In addition to this two 13-21 defeats for the home team were cancelled out as two of the Port men won 21-12 ultimately being the difference on the chalks.
In Division Two runaway leaders South Ramsey B did Marown C a huge favour as they won 3-7 away to second placed Ballaugh A, which ultimately allowed Marown C to leapfrog Ballaugh by two points. For the visitors Alan Moore won 21-6 against Edgar Cowin, while Tony Dugdale inflicted a rare home defeat on John Keenan 21-7. Edward Carlyle edged home 21-20 against John Maddrell, while Phil Quayle was on the right side of a 21-20 score for Ballaugh against Bryan Corner. South Ramsey now top the pile by 19 points.
Marown C just missed out on a whitewash with Douglas man Tommy Collister the lone winner as he beat Stuey Clague 21-20. The 9-1 win for the Crosby men was never in doubt with the highest losers for the Villa men reaching 15, while Jamie Joughin was the best winner for Marown as he won 21-5 against Greg Brew.
South Ramsey C can't be written off finishing second in the league just yet as they are just seven points off second place following their impressive 9-1 home win over Noble's A. Anthony Kelly was the best winner for the home team with a 21-7 win over Barry Salmon, while Mark Quinn was Noble's lone winner with a 21-8 victory over Andy Morgan.
Onchan C jumped two places thanks to a timely 7-3 home win over Ballaugh B as they started the night bottom of the league, with the latter now sitting second from bottom, while Port St Mary B could be heading for Division Three as they are now four points from safety at the bottom of the league following a heavy 1-9 defeat away to Finch Hill A.
Castletown B and Peel C played out the closest match of the week at the Crofts as the home team won 6-4 and claimed the aggregate by a solitary chalk (134-133) as home greener Billy Jones won 21-20 against Jeff Wilson.
In Division Three Noble's B and South Ramsey D brought their fixture forward a week to prevent any issues with road closures. The Noble's men won 9-1 to stay firmly in the race to finish in the top two. Matthew Corkill was the lone winner for South Ramsey as he beat Alex Hampson 21-13.
League leaders North Ramsey B gave a glimmer of hope to the chasing teams as they slumped to a 3-7 away defeat at Breagle Glen against Port Erin B as they lost the aggregate by just one chalk (131-130). The Mooragh Park men are ahead by 13 points, however they still have to take their turn to sit out a round of fixtures as Noble's B and Marown B look to close the gap further.
Marown D occupy third place, they kept the pressure firmly on the top two thanks to a 9-1 home win over Douglas D with Dave Corkish the only winner as he beat Phil Dunn 21-16.
Douglas C couldn't make home advantage count as they lost 3-7 at home to Finch Hill B with Sam Stannard-Duke winning 21-0 against David Caley.
Peel D welcomed Castletown C to the Sunset City with the home team winning 6-4. Most notable mention of the night was three generations of the Keggen family playing in the same team on the same night, quite possibly a first. The youngest Junior won 21-20 against Owen Crompton as he gains vital experience and confidence, while his Dad Thomas beat Andy Morrison 21-7. The biggest surprise of the night was from Grandad Mike, who if memory serves me correctly last turned out for Port St Mary over 20 years ago, as he managed to get hold of a set of bowls he was happy with as he went on to show he still knows how to win a game as he beat Ian Gray 21-17.