Stars of the Future Shine at Mooragh Park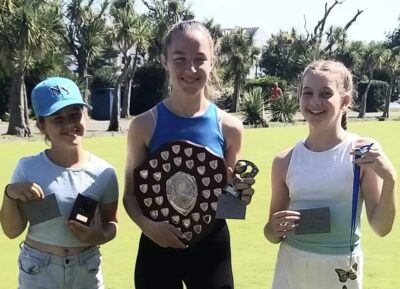 The Rheuben Thomas Memorial Junior Trophy was played for on Saturday in very hot conditions at North Ramsey Bowling Club. This is its second year of competition and attracted 28 junior bowlers.
The competitors were divided into seniors and juniors dependent on age. The juniors were then divided into two groups, A and B, who then played a round robin format of seven ends. The winner of Group A was Bailey McMullan and the winner of Group B was Olivia Johnson. Both girls then played a seven end final which was very close with Bailey McMullan just finishing in front to claim the under 11 round robin title.
The senior group of 17 bowlers played a knockout competition of 11 ends with some excellent bowling on display for the large number of spectators to watch. The early rounds left eight bowlers in the quarter finals. Grace Gawne beat Clark Kelly 10-6, Madison McMullan beat Shannon McMullan 13-3, Ryan Hargraves beat Alex Hampson 8-6, while Aalish Moore beat Alex Colquitt 7-6.
The semi-final between Ryan and Aalish was very close with Aalish winning 9-7 but a more convincing win in the other semi between Madison and Grace 13-3 took Madison through to the final.
The final was played over 13 ends and Madison managed to maintain the quality of bowling she had shown all morning winning 17-2 however the score does not reflect how well Aalish had played all morning in tough matches to reach the final.
At the end of the competition Rheubens wife Heidi presented the prizes along with a bronze medallion for each competitor to mark the occasion. Her daughter, Milli, thanked North Ramsey Club for running the event and all the competitors for taking part.