Success For South In Jean Kelly Competition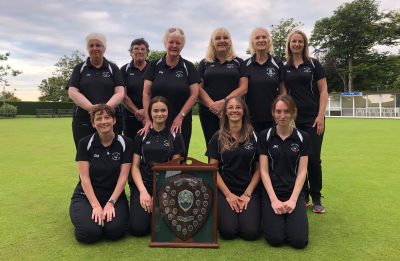 South Ramsey took on Port St Mary A in the final of the Jean Kelly Handicap competition which was held on Onchan Bowling Green.

South Ramsey would start the match with a five-point advantage with the handicaps based on the teams respective 2018 league position.

A success for Port St Mary would equal the record of five wins held by Castletown. South Ramsey would be chasing their second win in the competition with their first coming 17 years ago in 2002.

Elaine Moore (SR) vs Ann Maddrell was the first match off the green. Elaine started brilliantly surging into a 15-0 lead before Ann was able to get off the mark. Ann battled hard and responded with a seven-point run but was unable to prevent Elaine from running out 21-8 and guided South Ramsey off to a perfect start.

Ladies Champion Jenny Moore (SR) took on Mavis Franks with Mavis taking an early 6-3 lead before a nine-point run for Jenny took her 12-6 up. Mavis responded with three points in two ends before Jenny scored nine points without reply to win 21-9.

Girls Junior Champion Bethany Kennish (SR) took on Jayne Kneen with the youngster leading after 20 ends 13-11. Jayne then won six out of the next seven ends to clinch PSM first win on the night 21-14.

Kim Hargraves (SR) was next off in her match against Chris Price. Kim raced into an early 11-2 lead before Chris picked up some momentum to bring the match back to 11-8. Kim was able to build another run of winning five ends out of six to lead 18-9 before going 20-11 up. Chris tried to stage a comeback but the game ended with a win for Kim 21-16.

The final game from the first half saw Sue Collier (SR) take on Margaret Tasker. The game was evenly poised after ten ends with the score level at 7-7 before Margaret had a break of 10 points to take control of the game. Sue scored on a few more ends but Margaret won the game 21-12.

At the halfway stage in the match, South Ramsey held a 19 point lead.

Lyn Bolton (SR) against Trish Bull was the first game off in the second half with another strong performance from South edging them closer to victory. Lyn started the game well lying 9-1 up after nine ends. Trish was unable to break into the game but at 19-4 down picked up a couple of doubles before Lyn won 21-8, taking her team 32 points ahead.

Val Macfarlane (PSM) got off to good start in her match against Fiona Kennish leading 9-4 after ten ends and 14-5 after 15 ends. Fiona fought hard into double figures before Val won 21-13 reducing the deficit to 24 chalks.

Kellie Maddrell (PSM) gave her team hope in the match after winning her game against Jill Quayle 21-10. After a nip tuck start, Kelly broke away to lead 17-7 before winning 21-10 bringing the match score down to 13 chalks.

The final game between Gill Morgan (SR) and Wendy Kennaugh started like so many on the night, with a player racing into an early lead. Gill was leading 14-1 after eleven ends with the match now safe for South Ramsey. Wendy managed to take control of the jack and a run of 9 ends brought her back into the game at 14-11. Gill, with a run of four singles, moved 18-11 up and despite Wendy picking up a couple more doubles was unable to stop Gill who won 21-16.

South Ramsey won the final with the result finishing 159-141 giving them an 18 chalk win on the night.

Following the match, the presentation was held by Jean Kelly's family. Thanks were given to Onchan for hosting the final, all the spectators who attended and the players for putting on a good performance.

The association would also like to thank Moore Kelly and his family for their continued generosity and providing fantastic food and refreshments for all the players and spectators.