South Ramsey A Seal Division One Title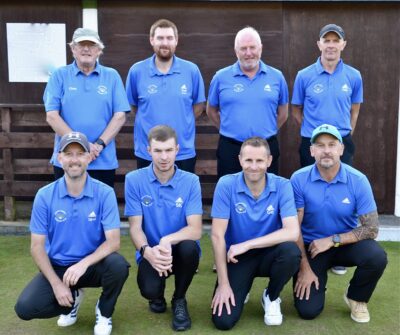 The crown green bowls league season finished with another double week as the league winners, promotion battles and bottom teams were settled in all three Divisions along with the individual merit winners.
In Ellan Vannin Fuels Division One South Ramsey A proved to be the top team this season as they followed up on their recent Rayner Shield victory as they wrestled the league title back from Marown A. The northern team had the same group of players as they had two seasons ago, improving on their 2019 tally by nine points, to top the table with 173 point as they won the league by 12 points, ending the season in good form as they won 9-1 at home to Ballaugh A on Monday night to secure the title and then came away from the Villa on Wednesday evening with a 2-8 win.
The only matter to be settled in their last match was who would be the individual merit winner. The overall and deserving winner was recent Manx Masters champion David Bradford (pictured below) who secured the accolade with 21 wins from 21 games played to cap a fine season. Finishing in second place was team mate Glynn Hargraves with 21 wins from 22 games played (3 chalks dropped), while Dido Kelly completed an all South Ramsey top three in the merit with 19 wins from 20 played (5 chalks dropped). The one match Bradford missed due to a back injury was at home to Marown A, which coincidentally was the same night that the home team lost 3-7, with both Hargraves and Kelly losing their one and only league game this season.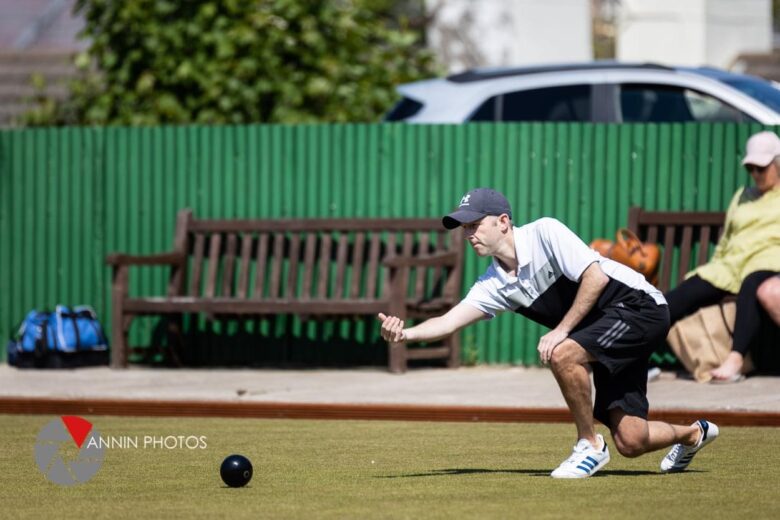 Marown A finished the season in second place with a hard earned 3-7 away win over Peel B, followed up by a 9-1 home win over North Ramsey A.
The Crosby men will be taking a hard look at where they can improve next season, despite continuing a run that has resulted in them finishing no lower than second place in every season since 1996 as they finished the season 19 points worse off than 2019.
Peel A had a tough night on Monday as they lost 4-6 away to Marown B, a damaging result for their hopes of a second placed finish, as they suffered a second successive defeat, however they bounced back on Wednesday with an 8-2 home win over Port St Mary A.
The Peel men managed to finish in third – their highest league finish for a long time as they improved on their 2019 points total by 26 points, they will look to continue to improve next year as they finished the season just seven points behind Marown A following two damaging defeats towards the end of the season to fall into third place after occupying second place for most of the season only to be pipped at the post by Marown.
Ballaugh A finished in the bottom two to confirm an immediate return to Division Two as they join Noble's A who had already been relegated, while Peel B will be delighted to have comfortably retained their top flight status having been promoted in 2019.
In Division Two Onchan B had the unenviable task of knowing what score they needed to win to with the other teams in contention having played the night before, with a tricky looking trip north to take on South Ramsey C, however they brushed aside the home team 2-8 to seal top spot and a long awaited return to Division One by a single point in a nervy ending to the season.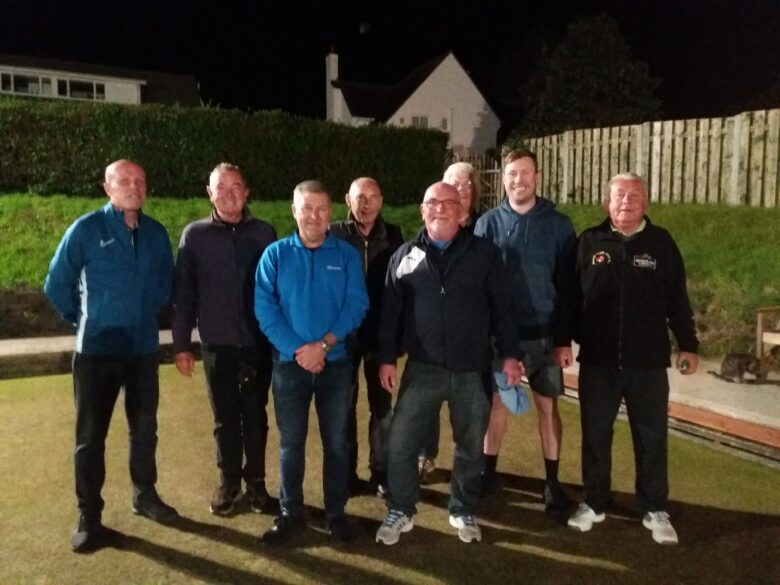 Finishing in second place were Port Erin A on 129 points, as they finished just one point behind Onchan B, with the Port men finishing four points clear ofboth South Ramsey B and Castletown B as the Breagle Glen outfit ensured they returned to the top flight with a 7-3 home win over Marown C, then turned over Port St Mary B 10-0 to finish the season strongly.
South Ramsey B probably did as well as they could this week, but will rue a number of poor results throughout the season as they just fell short despite winning a tough game 3-7 away to Finch Hill A, followed by a 9-1 home win over Douglas B, whilst Castletown B dropped seven costly points in their last two outings as they beat Port St Mary B 7-3, then won 4-6 away to Peel C.
Finishing in rock bottom, a massive 46 points from safety on just 41 points were Finch Hill B, while Port St Mary B were also in one of the relegation spots as they finished 17 points from safety on 70 points, with the club looking to regroup over the winter, as they move onto pastures new.
The individual merit went to Onchan B player Mike Thomas (pictured below), despite missing a game as he managed to finish top of the pile with 18 wins from 19 games played (10 chalks dropped). Finishing in second place was Finch Hill A man Dave McCabe who won the same number of games as the Onchan man, however 14 chalks dropped in his two losses ultimately cost McCabe. In third and fourth place were two South Ramsey B players, Steven Waters and Tony Dugdale with both missing two games, as they stepped up to help out their A Team who were battling for the title.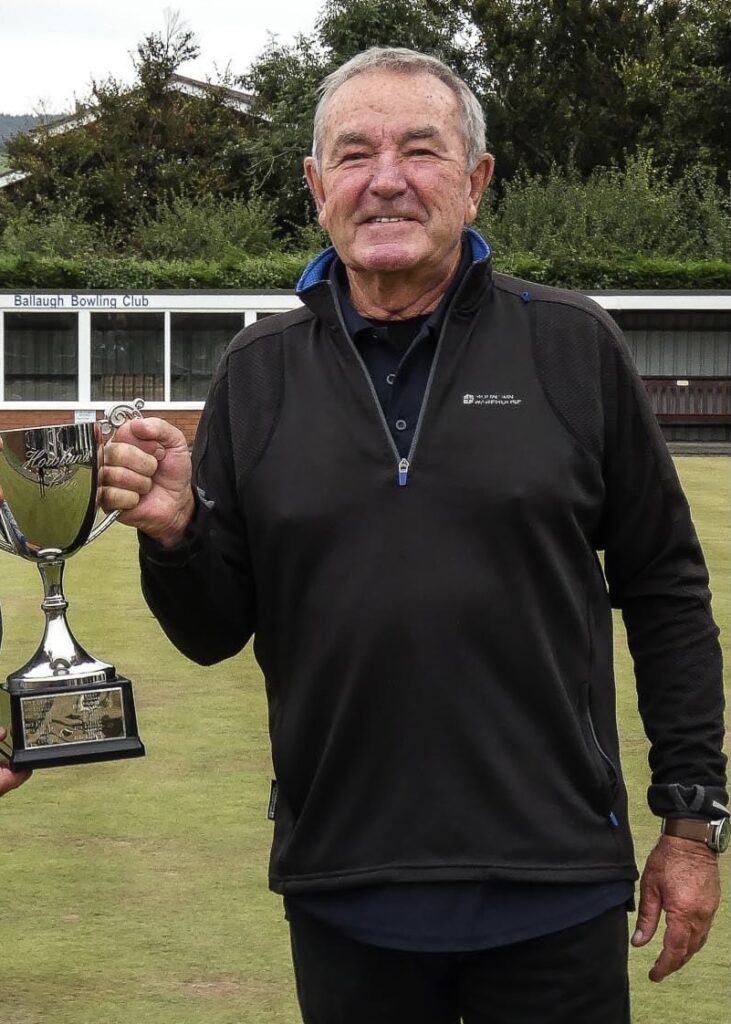 In Division Three Ballaugh B doubled up as they won the title with 146 points, while their star man John Bolton (pictured below) sealed the individual merit with a 21-5 win over South Ramsey D player Matthew Corkill. Upon being told he had won the individual merit Bolton was clearly shocked and delighted as he won 18 games out of 20 games played in a fine season for his team and on a personal level.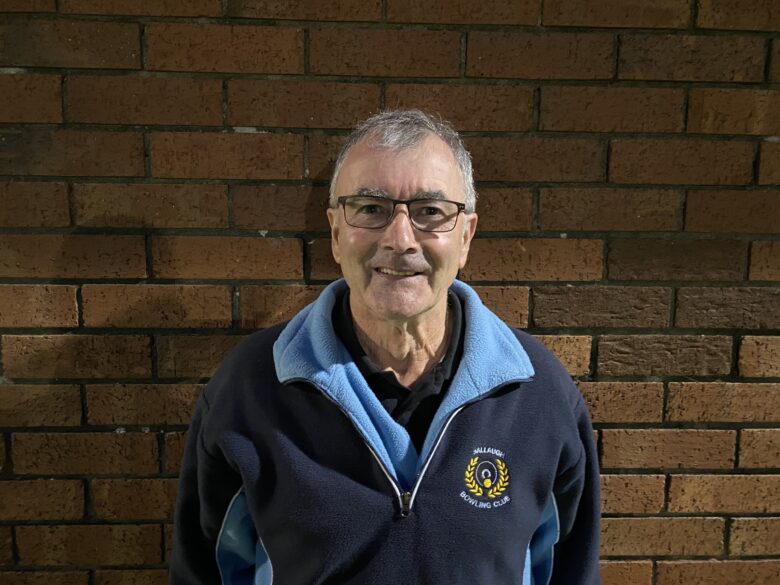 The Ballaugh men finished the season strongly with their 2-8 away win over Port Erin B, then followed this up with an 8-2 home win over South Ramsey D.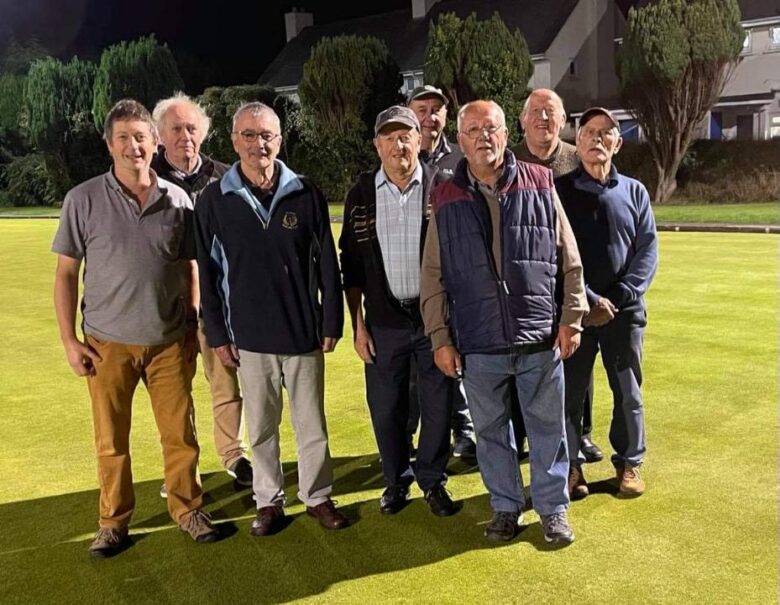 Onchan C finished the season in second place with 129 points, 17 points behind the league winners and 12 points ahead of third place Ballaugh C. It proved to be a poor week for Onchan as while they did enough to secure second place they lost 8-2 away to Ballaugh C then drew 5-5 at home to Marown D with the visitors winning five games, however the home team edged the aggregate by one chalk (149-148) to avoid a second successive defeat.
Rounding up the individual merit places in Division Three James Drinkwater (Castletown C) won 17 games from 19 played (13 chalks dropped), while Peel D player Philip 'Pip' Pemberton can be proud of his efforts this season with 17 wins from 20 games played and just 15 chalks dropped.