South Ramsey A & Marown B 'Max Out'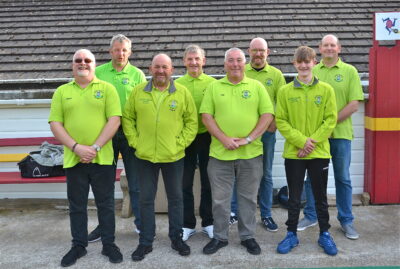 In Canada Life International Division One this week there were two maximums with league leaders South Ramsey A extending their lead to six points courtesy of their 10-0 win over Port Erin A on a tricky home green with the visitors a man short and reaching just 63 chalks on the night.
Marown B made up some ground on their A Team with their second 10-0 of the season as they beat Peel B with the visitors now sat in a precarious position five points from safety.
Marown A will have been pleased to come away from the sunset city with a hard fought 3-7 win over Peel A, which could have just as easily have been 5-5 on another night with George Gadsby losing out 19-21 to Harry Barton, while Tommy McMeiken lost 20-21 to Neil Withers. The two single figure wins from Colin Kelly and captain Paul Dunn went a long way towards securing the aggregate for the Crosby men as they won by 15 chalks (133-148).
Onchan B closed the gap on visitors Castletown A to just two points following their 7-3 home win with the Onchan men winning by 13 chalks (149-136). Colin Spence won 21-8 against Alan Phair, which Derek Lewney cancelled out with his win over Bernie McPhee.
Port St Mary A continue to adjust to their temporary home, they managed to beat Douglas A 7-3 at Breagle Glen. Jordan Drewett stormed to a 21-6 win over Tommy Collister who played on the Port Erin green for a number of years. Tom Collins will have been buoyed following his first league win of the season as he won 21-15 win over Ian Moore. For the visitors' captain Merv Sayle won 21-14 against Tim Williams, Keith Rise continues to impress with a 21-17 win over Wayne Roberts, while Andy Cannell battled to a 21-18 win over Nathan Hamilton.
The closest match of the night was at Mooragh Park between North Ramsey A and Onchan A with the match ending 4-4, the visitors edging the aggregate by two chalks (146-148). For Onchan Phil Kerruish was the best winner as he beat Ray Skelly 21-12, while Will Penhallurick worked hard for his 21-19 victory over Gary Merrill. For the home team Paul Allison continued his fine form with a 21-8 win over Andy Kennish, Rob Monk beat Mike Thomas 21-19, while Allan Callow beat Reg Temporaza 21-20.
In division Two South Ramsey B show no signs of slipping up following their 1-9 away win over Finch Hill A. The lone winner for Finch was Mark Taylor who only took the game up last season, as he beat the previously undefeated Steven Waters 21-12. Impressing for the visitors were the evergreen Chas Grills with a 21-15 win over Dave McCabe, Austin Hart performed well as he beat Les Brookes 21-13, while four single wins from Ed Carlyle, Bryan Corner, Sid Bolton and Tony Dugdale kept the home team to under 100 chalks (97-159).
Ballaugh A sit in second, they had a good evening at home to Onchan C as they won 9-1 with the Ballaugh men looking to be playing for second in a battle with Marown C. Barry McDonald got over the line 21-20 against Roger Payne, while Phil Quayle and John Keenan both won to single figures.
Marown C stayed in touch thanks to their 8-2 home win over Ballaugh B, with Dan Smith just missing out on getting an extra point for his team as he lost 20-21 to Dicky Watson. The home team had three winners to single figures with Walter McCarthy ruthlessly winning 21-1 against Paul Davis.
South Ramsey C returned to winning ways with a 7-3 home win over Port St Mary B, with the visitors a man short this surely cost them the aggregate as they lost out by eight chalks (138-130).
Douglas B hosted Peel C at the Villa, with the home claiming a 7-3 home win. Gary Conwell continued his return as he recorded another win, while Stuey Garrett was the best winner for the home team.
In Division Three with league leaders North Ramsey B taking their turn to sit out Marown D closed the gap to a single point thanks to a 3-7 win over Douglas C. All games in the fixture reached double figures.
Noble's B stayed in touch just five points off top spot following their 9-1 home win over Castletown C, while Peel D and Finch Hill B drew 4-4 on games in the Sunset city with the home team despite being a man short edging the chalks (134-130) to take a 6-4 win.
Elsewhere Ballaugh C won 7-3 at home to Douglas D and Port Erin B won 8-2 at home to South Ramsey D, with three of their wins being keenly contested games. For the home team Ed Benson won 21-2 against debutant Hakim Thomas, while Geoff Collier hit back for the visitors with a 21-8 win over Trevor Barker.
Rayner Shield
Division Two side South Ramsey B were the first team to go through to the quarter finals of the Rayner Shield, as they ruthlessly beat Division One side Peel B 8-0, with the visitors failing to score 100 chalks (168-94).
The tie of the round was between South Ramsey A and Onchan A, with the visitors missing some key players they still put in a good performance as they lost 5-3 to the current holders. Matthew Quirk was the best winner with his 21-16 win over James Teare, while Kevin Quirk and Andy Kennish both edged their games 21-20 against David Bradford and Dido Kelly respectively.
Marown A progressed to the next round courtesy of a 7-1 home win over Castletown A with Mark Moorley the lone winner as he won 21-9 against Phil Kelly. Marown officially welcomed Peter Jones to the club as he made his debut, with Jones doing enough to get over the line 21-18 against Ron Williams.
Onchan B were defeated 3-5 at home to Peel A with the winners for the home team Mike Kelly, Steve Parker and Jamie Clague who beat Dave Smith, Tommy McMeiken and Tom Kelly respectively.
Rayner Plate specialists Marown C reached the quarter finals of the Shield following their 2-6 away win over North Ramsey B, while Douglas A cruised home 8-0 against their B Team, a result matched by Port St Mary A who beat Finch Hill B.
The last match of the Rayner Shield had South Ramsey C hosting Marown B, with the visitors looking to be on the end of a huge upset as they trailed 3-1 at the half way stage, however the back four Marown men hit back to run out with a 3-5 victory.
Rayner Plate
In the Rayner Plate the favourites North Ramsey A (+15) came away from their trip South with a 33 chalk victory (140-173) over Castletown C (+50), whilst the handicap helped get the job done for Peel D (+50) who beat Castletown B (+25) by 16 chalks (194-178). Ballaugh B (+35) and Finch Hill A (+35) started off the same handicap with the visitors Finch coming away with a sizeable 42 chalk victory (141-183) as they booked their quarter final spot.
Port St Mary B (+35) were at home to Ballaugh A (+25) with the match ending 4-4 on games, however the home team held onto their 10 chalk start to win by 19 chalks (175-154). Douglas C (+40) hosted Marown D (+65) with the visitors not needing the handicap as they won by a huge 64 chalks (159-223). Onchan C (+40) welcomed Noble's B at the Park and the visitors progressed to the quarter finals despite losing 5-3 on games as they won by 19 chalks (181-200). The final fixture of the night between third division Ballaugh C (+50) and second division side Peel C (+45) with the home team having a marginal five chalk this wasn't anywhere near enough to hold off the visitors as the Peel men won by 42 chalks (141-183).
The last match of the round is scheduled for 7th June with Port Erin A (+5) hosting Noble's A (+45) at Breagle Glen.