Second Half Underway – Juniors Shine in Mixed League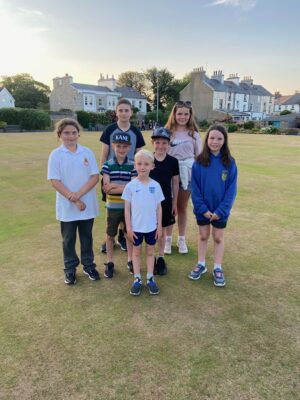 The second half of the season got underway in Ellan Vannin Fuels Division One this week with four 10-0 wins from the top four teams in glorious weather.
Arguably the most impressive of the big wins was from South Ramsey A who travelled to Crosby to take on Marown B on a tricky green, however they had to battle for their first 10-0 win of the season. Chas Grills dug in to recover from a 2-10 deficit against Bobby Thorne to get over line 21-20. Also having to dig deep were David Bradford after a tough encounter with Jerome Surridge with the latter making his return to league action after injury before losing out 17-21. Walter McCarthy stepped up from the C Team and he led 6-0 and 14-9 against visiting captain Glynn Hargraves before Hargraves kicked into gear to see the game out with a 21-17 victory to seal the 10-0 win for the visitors. Also winning for South to single figures were Alan Moore and Dave 'Dido' Kelly as they beat Glenn Boland and Peter Kelly.
Peel A remain in joint second with Marown A following their impressive 10-0 win over their lower ranked B team, on another green which was running incredibly well thanks to the recent hot and dry weather that we have enjoyed. A team captain Gary Smith won 21-1 against Brian Lindsay, Peter Greenlees returned to winning ways with a 21-2 win over Colin Moore, while Tom Kelly beat Robert Middleton 21-5.
Marown A kept in touch with their own 10-0 away win against bottom of the league Noble's A matching the home result at the start of the season. The Marown men were ruthless with only three Noble's playing reaching 13. Winning to single figures for the Crosby men were Colin Kelly, Phil Kelly and Dean Kipling. Noble's only managed to score four more chalks than they scored away from home as they scored 83 chalks on the night.
Port St Mary A rounded off the 10-0 wins in division one on the night with the visitors Ballaugh A struggling to adapt to a fast surface as they just made it over 100 chalks. For the Port men Trevor Quayle and Robbie Cooil both won to single figures. For the visitors Edgar Quine lost 17-21 to Paul Skelly, Tony Quine was defeated 18-21 against Dan McCabe, while John 'Shirt' Keenan lost 19-21 to Tom Colllins.
Onchan A recorded a solid 7-3 home win over Douglas A with Matthew Quirk maintaining his perfect record to win his eighth game of the season, this time out heavily beating Keith Rise 21-2 on his former green. Not far behind winning 21-4 was Phil Kerruish who beat Gordon Wynne-Smythe. Perhaps an opportunity missed for a 10-0 win themselves with Frank Watson losing 17-21 to Jimmy Sansom, Mark Kelly was beat 19-21 by Shan Seal while captain Pete Slinger lost out 19-21 to the in-form Andy Cannell.
North Ramsey A made home advantage count at the third time of asking following two home defeats – albeit to Marown A last week, as they defeated Castletown A 7-3. For the home team Tony Smart inflicted a second league defeat of the season on Bob Clark as he won 21-13, Allan Callow seen off Peel Town Cup finalist Dean Kinley 21-9, while Rob Monk made it six wins out of six with his 21-8 victory over Aaron Richardson. Gary Merrill battled to a 21-19 win over Ian Watson with Paul Cannan beating Nathan Hamilton. Winning for the Town men were Sam Clague, Nathan Hamilton and Jordan Drewett over Steve Walmsley, Ray Skelly and John Cannan respectively.
In Division Two South Ramsey B got their up and down season back on track as they swept aside the 9-1 win against their lower ranked C Team. Tony Dugdale was the only winner to single figures for the B as he beat Tony Hart 21-8, with four of the other winners for the B team winning to 17 or above from Bryan Corner, Christian Caley, Edward Carlyle and George Brew. The lone winner for the C team Lee Dawson as he beat Austin Hart 21-6.
Castletown B won 8-2 at home to Finch Hill B with Peter Oates leading the way for the home team with his 21-2 win over Kevin Stannard, with Ron Williams beating Chris Thompson 215 and Derek Lewney winning 21-7 against Mark Taylor. Winning for Finch were Brian Murphy as he beat George Foy 21-19 and Chris Duggan who won 21-13 against Alan Phair.
Douglas B hosted Marown C at the Villa with the home team taking a 6-4 win with the match well contested, however the single figure wins from Steve Gregg, William Cowley and Bob Banning were enough to seal the two-point aggregate.
Finch Hill A were in fine form with their 10-0 home win over Port St Mary B, with all the visiting players reaching double figures, with Bernard Thackrah & Ray Maddrell coming closest to grabbing some points as they lost to 18 and 19 to Arthur Halsall and Peter Hughes respectively.
Port Erin A rounded off the 10-0 victories with their win over Peel C at Breagle Glen winning two of the games 21-20 from Seamus Whelan who beat Jimmy Corlett, while Derek Cadamy edged home against Phillip Clarke.
In Division Three Onchan C came away from their match at the Villa with Douglas C with a 3-7 victory to stay at the top on 78 points. Stuart Garrett turned out for the home team and beat Allan Kennaugh 21-4, with Ken Clark being the best winner for the visitors as he beat James Teare 21-7.
Ballaugh B recorded an 8-2 home win over Noble's B to move join top with Onchan C. They just missed out on a full house by three chalks with Fred Waggett losing out 19-21 to Stephen Corkill and John Looney suffering a 20-21 loss to Stewart Cubbon.
Port Erin B welcomed Douglas D to Breagle Glen with Ken Horsley winning 21-3 against Joe Phelan and Ed Benson won 21-7 against Juan Readshaw. For the visitors Nick Firth continues to impress as he won 21-17 against Alan Crebbin, John Ferguson won 21-10 against Christopher Dent and David Cowley beat Stuart Garrett 21-15.
Marown D had a tough home against Ballaugh C with a lot of new players adapting to the extremely tricky green extremely well as they won 8-2. Steve Rough won 21-1 against Richard Green, Rob Bell did well to beat Trevor Jones 21-17, Alan Gault beat a fellow new bowler Nigel Tabay 21-16, Alex Colquitt 21-. Dan Smith made a rare appearance as he beat Peter Corlett 21-12, while Alex Colquitt won 21-16 against Gordie Moore. The two winners for Ballaugh were to single figures with Brian Lace and Maurice O'Reilly beating Phil Dunn and Steve Cain respectively,
South Ramsey D were due to be the hosts for their fixture against Castletown C however the visitors were unable to field a team resulting in South Ramsey being awarded a 10-0 win.
On Wednesday evening the second set of fixtures took place in the Mixed League with the highlight being Castletown B hosting Marown C with both clubs taking the opportunity to use the match to introduce a number of juniors to a competitive league fixture as they fielded 17 juniors with only one adult taking part on the night which was once again played in glorious weather.
With five players on each team making their competitive debut it was the visitors Marown who won by 76 chalks (110-186) with four players winning to single figures (Charlie Bell, Rebekah Kelly, Amanda Butler and Emily Cooper). The one winner for Castletown was Freddie Palmer, another player making his debut as he beat Martha Butler 21-18, with Grace Quayle scoring well before losing out 19-21 to Alex Colquitt. Dylan Marsh performed well only to lose 17-21 against Sam Colquitt. This was a great advertisement for crown green bowls on the Island and speaks volumes for the work being done by both clubs to bring new players into the game.