Port St Mary Win Jean Kelly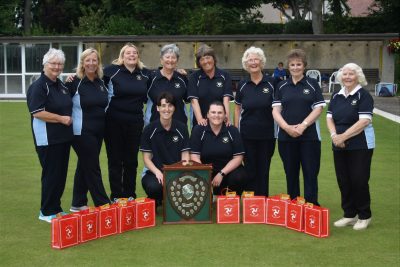 Port St Mary Ladies have won the Jean Kelly Memorial Competition for a fourth time beating Nobles by 17 chalks 178-161.
For once the weather suited the occasion as the two teams, Port St Mary and Nobles, met at Onchan on Thursday 6 July for the final of the Jean Kelly Memorial competition. It was gratifying to see so many spectators there, enjoying the evening sunshine and some fine bowling.
There were some very close games and when the first block of five games came off, Port St Mary had a narrow lead of four points once Nobles' handicap was taken into account. The last four games were shared with Nobles having good wins from Rebecca Teare and Debbie Leece, but wins from Tricia Bull and Chris Price, to single figures, gave the victory to Port St Mary 178-161.
The main difference was the winning team's consistency, with each of their players scoring at least 16 points. The other winner for Nobles was Clare Cooper, while Sylvia Kennaugh reached 19 against Jayne Kneen and Paula Firth lost out 20-21 to Wendy Kennaugh.
Association vice-president, Sue Peach, thanked the two teams for giving us such a good match, and also thanked all those who had come along to support the event, before introducing Moore Kelly, who sponsors the event so generously every year.
Moore thanked his family and friends for providing the food for the buffet, which was much appreciated by players and spectators alike. He then introduced his daughter-in-law, Ruth Kelly, to present the prizes.
Runners Up – Nobles