Port St Mary Ladies Lead At Halfway Stage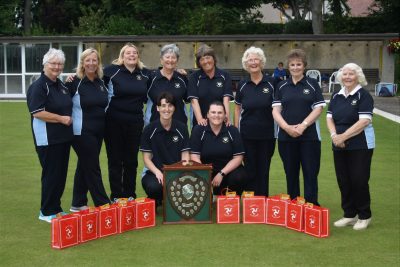 As we reach the halfway stage in the C Tarlton Hodgson Ladies Bowling League only five points now separate the top three with Port St Mary leading the way on 2049 followed by South Ramsey 2046 and Castletown 2044.  Nobles are in fourth position, and although they have drifted 89 points back from the leaders, they will still mount a challenge for the top spots.
Onto the results and we start with the most in form team at present Castletown.  They were averaging just over 185 coming into the week and showed no signs of slowing down after another strong home performance where despite losing four games they still managed over 170 chalks.  Two of their losses were 21-20 with Peel players Heather Horsburgh and Lynda Wilson just getting over the line.  The returning Kath Kinley won 21-8 for the home side with Tracey Moore, Amanda Lawler and Heike Perry also winning to single figures.  For Peel, Mary Moffatt top scored beating Sue Peach 21-9.  Final match score 173-132 (5-4).
Port St Mary travelled the short distance to rivals Port Erin.  Port St Mary had the better results on the night with Chris Price, Jayne Kneen, Kellie Maddrell-Reeve and Margret Tasker all winning to single figures.  Port Erin did pick up three wins with Lynda Cadamy and Voirrey Curphey winning to single figures and Jenny Cain beating Katy Williams 21-19.  The result finished 122-156 (3-6).
Purt Le Moirrey welcomed South Ramsey with the away side triumphing with a fine 136-173 (4-5) victory.  Kim Hargraves top scored for the away side beating Chris Holland 21-4 whilst Jenny Moore also won to single figures beating Debra Cooper 21-8.  Elaine Moore retained her 100% record notching up another win beating Dot Mylchreast 21-11.
Nobles bounced back from their result last week beating Onchan 171-108 (7-2).  Nobles picked up some big wins as Clare Cooper won 21-1, Jayne Smith 21-4, Alison Keggen and Debbie Leece both winning 21-6.  Onchan did pick up two wins from Jo Smith and Sue Gawne, with Dee Lewis unlucky to add a third losing 21-20 to Lin Ruscoe.
Douglas faced Castletown B with both teams containing players who are in their first and second year of bowling.  Douglas got the upper hand in all but one game winning 180-94 (8-1).  Rebekah Kelly won her first game of the season with Shantelle Thorpe also winning her second game of the season.  Castletown's Elaine McElroy prevented a whitewash winning her game 21-12.
In the final game on Friday Ballaugh were narrowly defeated at home to Marown 134-153 (4-5).  Lil Smith and Elaine Dewhurst put in fine away performances to win 21-2 and 21-6 respectively with wins also for Rosie Winckle, Pat Withers and Mary Alderson.  Ballaugh's winners were Brenda Bowyer, Elaine Fenton, Gill Dixon and Pat Mason who won 21-6 in her game.
With half the season now gone the league has taken shape and the current top four will swap and change places and fight until the league concludes in September.
Individually Elaine Moore is the only player to have won all 12 games; although a mention to Top Lady winner Hannah Drewett who has only played 11 games but has a 100% record.  Elaine is chased by team-mate Lyn Bolton who with Port St Mary's Chris Price is only one chalk behind.
Looking ahead Port St Mary sit out giving the chasers free reign to pull ahead, at least temporarily.  Nobles entertain Castletown B, South Ramsey go to Ballaugh and Castletown with a home tie to Douglas.