Port St Mary A Crowned League Champions Again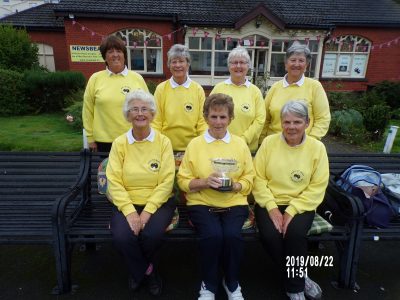 The final league matches were played on Tuesday and as anticipated it was a close finish resulting in Port St Mary A winning the league title but by just 2 points!
The A team arrived at Breagle to play Port Erin 's A team in the final match of the season holding a 16-point lead over Peel.
The Port Erin side played exceptionally well in a very close game taking the league leaders to a 92-95 (2-4) final score and surely reducing their overall points total.
The 2 wins came from Lynda Cadamy, who won 21-2, and Jacqui Elliot, who won 21-9, with 3 of the remaining team reaching double figures giving them 92 points in total. However, Port St Mary had their eyes firmly on the prize and got 4 wins from Margaret Tasker, Tricia Bull, Mavis Franks and Ann Maddrell taking their total to 95 points.
Meanwhile in Ballaugh Brenda Bowyer and her team awaited the arrival of Peel.
Glorious conditions and a much-improved green saw some excellent bowls played.
Ballaugh fought hard against the visitors and had 3 wins from Barbara Graham, Carol Holt and Voirrey Oates plus double figures from all the other players. In contrast Peel also played well, trying hard to close the 16-point lead that the southern side were holding. Peel bagged 3 wins from Joyce Kelly, Mary Moffatt and Heather Horsburgh to clinch a 5-point victory 104-109 (3-3) but in the end Port St Mary were crowned league champions for another year.
Castletown were keen to hold onto their 3rd position in the league when they played their nearest rivals Marown. The visitors played well but were unable to dominate the home side and the final score was 114-95 (4-2).
As well as the league being decided the Merit Table has been topped by Elaine Moore who has had an outstanding season winning all of her games.
To finish my final league report for 2019 I thought I would leave you all with a poem dedicated to all new bowlers. We need as many new recruits as we can get to strengthen our sport and provide continuity for the future.
DON'T GIVE UP
When the summer day is over and I've put my bowls away
I sit before my iPad and I wonder what to say
Oh, the time has gone so quickly I can't believe it's done
With all the games decided, are they lost or won?
April saw the start of bowling and we played it twice a week
Wet and windy and no sunshine, followed up with lots of cake.
We started off quite handy full of hope and motivation
Perhaps next year they'll choose us to represent the nation!
But no, it didn't last we bowled our bowls a bit too fast
Jack up they cried Long tapes they cried
But most of all "All but "they cried
More land, Reach up, my finger, your thumb
Oh my goodness what have I done.
Even when we're down the Park we sometimes cannot reach the mark,
Too short, Too long, Too narrow, Too wide
Our lack of practice you couldn't hide.
The captains said "well done "well played "You are improving "
So come on girls let's get moving.
The winter league is set to start
A mid-week game at Nobles Park
Send the form in, pay the subs
There's lots of bowlers from all clubs
But don't be late, listen and learn.
Then maybe next year it will be our turn.