Peel Bounce Back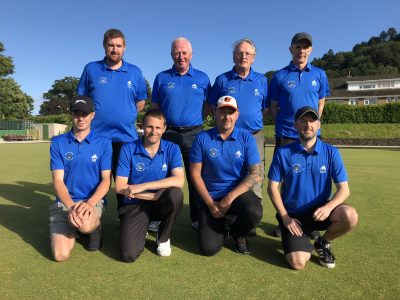 In Ellan Vannin Fuels division one Peel A bounced back from two poor results last week to win 9-1 away to Marown B at Crosby. Andy Kennish led the way for Peel with a 21-3 win against John Kelly with Tom Kelly following up with a 21-5 win over Juan Killip. Pushed harder for the visitors were Gary Smith who won 21-17 against Peter Kelly, David Proctor who held off Steve Bridson 21-18, whilst Harry Kelly was closer still winning 21-19 against Brian Kelly. Sparing the whitewash was home captain Harry Barton with a good 21-15 win over Tommy McMeiken.
Champions elect Marown A won 3-7 away from home against Noble's A with the Crosby men nearly dropping another point, however John Gelling just got over the line 21-20 against Reginald Temporaza. Winners for the home team were Tommy Collister who made it nine wins from 11 games with a 21-16 victory over Paul Kelly, Kevin Firth recovered from a slow start to win 21-17 against Phil Kelly, whilst Dave Pease inflicted a first league defeat of the season on merit leader Paul Dunn 21-16. Also winning for the visitors were Neil Withers, Colin Kelly, Matthew Keggen and Dean Kipling.
Onchan A made the trip south to take on Port St Mary A coming away with a 3-7 win. On another night it could have ended up as a draw (5-5) or a whitewash (0-10). Their three losses were close with captain Peter Slinger losing 17-21 to Paul Skelly, a result matched by Matthew Quirk who lost to Wayne Roberts, whilst Steve Parker pushed Rob Cooil hard before losing out 19-21. On the flip side Jordan Cain recovered from a 14-20 deficit to run out with a 21-20 win over Dan McCabe, whilst Frank Watson just got home to the same score against Dave McCabe.
South Ramsey A missed out on the opportunity to close the gap on Marown & Onchan with their fixture at home to Castletown B, having only lost one game in the Rayner Shield fixture last week they dropped three games with their 7-3 home win over the Town men. Winning for the visitors were Bob Clark who beat Chas Grills 21-9, backed up by captain Ron Williams with a 21-19 victory over James Teare, whilst Ross Moore held off Roger Thomas to win 21-14. For the home team David Bradford, Stefan Kelly and Alan Moore all won to single figures over Dave Faragher, Aaron Richardson and George Foy respectively.
North Ramsey A turned in a good home performance against visitors Douglas A to win 7-3. Captain Allan Callow had a good 21-15 win over Stuart Garrett. Geoff Porter was ruthless with his 21–1 victory over Peter Wilcox, whilst Tony Smart used home advantage well to see off Andy Cannell 21-10, whilst Steve Walmsley had his work cut out to hold off Merv Sayle to win 21-19. For the visitors Ian Moore won 21-19 against Bryan Corner, with Bob Banning performing well to beat John Cannan to the same score. Shaun Seal will have been pleased with his 21-4 win over Ray Skelly.
Castletown A kept rivals South Ramsey B at arms length with their 6-4 home win. Home team winners were Peter Oates, Sam Clague, Ian Watson and Jordan Drewett with the latter edging home 21-19 against Sid Bolton. For the visitors Austin Hart returned from his weekend with the Juniors Island Team in fine form to take a 21-8 win over Dean Kinley, whilst team mates Ben Dugdale, Steven Waters and Tony Dugdale also won. Castletown took the win thanks to winning the aggregate by nine chalks (137-128).
In division two Ballaugh A slumped to a 2-8 defeat away to Port Erin A despite the Breagle Glen outfit only fielding seven players, whilst Finch Hill A also suffered a setback losing to the same score away to Peel B. Port St Mary B capitalised on these defeats winning a tough game 3-7 away to fifth placed Onchan B to climb up to second place to sit nine points off league leaders Ballaugh. Peel C travelled to the Villa to take on Douglas B with the visitors taking a 4-6 away win thanks to edging the aggregate by a single chalk (135-136), whilst Port St Mary C will have been delighted with their 3-7 away win over North Ramsey B.
In division three runaway leaders South Ramsey C had a potentially tricky away fixture against second placed Finch Hill B, will have been pleased to come away with a 4-6 win to extend the gap to 24 points.