Peel A Close the Gap on League Leaders Marown A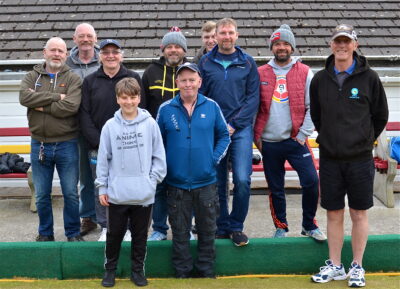 Week two in division one had the weather play a factor with strong winds on Monday evening making for difficult bowling conditions with Onchan A hosting pace setters Marown A at the Park with the visitors taking the spoils with a 3-7 win. The five winners for the Crosby men were all comfortable with low double figures victories, with the biggest win from Juan Killip who inflicted a rare home defeat on Kevin Quirk 21-10. Winners for the home team were Jordan Cain with a 21-8 win over Matthew Keggen, Mike Thomas recorded a 21-16 victory over Phil Kelly, whilst captain Peter Slinger just got the win 21-20 over John Gelling.
Peel A sit in second place following their tricky away fixture against North Ramsey A, who now have their destiny in their own hands having recently taken over the maintenance of their bowling green, they will look to get their green back to its best over time. The visitors came away relatively unscathed with a good 2-8 victory thanks to Tommy McMeiken winning 21-19 against Ray Skelly, whilst George Gadsby inflicted a second consecutive 21-20 defeat of the season on Tony Smart. Winners for the Mooragh men were Gary Merrill with a 21-15 victory over Gary Smith, whilst John Cannan continues to be tough to beat at home with a 21-19 win over Dave 'Barney' Kelly.
South Ramsey keep ticking along quietly with a rewarding visit to the opposite end of the Island to take on Port St Mary A recording their second 8-2 win of the season. Winners for the home team were Trevor Quayle who won 21-7 against Chas Grills, with Dan McCabe not far behind with his 21-10 victory over Alan Moore. South Ramsey responded with three single figures wins from Dave 'Dido' Kelly beating Paul Russell 21-5, whilst David Bradford & Glynn Hargraves matched each other with their 21-7 wins over Paul Skelly & Tim Williams respectively. Peter Collister continued his fine form with a good 21-11 win over Wayne Roberts.
Promoted teams Peel B & Ballaugh A met in the Sunset City with the home team recording an assured 7-3 win, which on another night could have been 9-1 with Gordon Corrin losing out 19-21 to Barry McDonald, whilst Robert Middleton just missed out 20-21 to John Maddrell, Paul Quirk was heavily defeated 6-21 by Philip Quayle. For the home team captain Paul 'Pookie' Quirk continues to impress and is not looking out of place in division one with a 21-14 win over the experienced John Keenan.
Noble's A hosted Castletown A and will have been pleased to take four games from the visitors with Les Brookes, Dave Naughton and Sam Stannard-Duke all winning 21-14, whilst Martyn Hobson will have been delighted with his 21-13 win over Nathan Cooil. A lot of credit must go to the Noble's men with four of the players having never played first division bowls, yet all four are giving a good account of themselves as they look to gain experience. For the visitors Bob Clark recorded an unbelievable 21-0 win over Tommy Collister, which must be a first with Tommy always being the standout performer at every club he has played for. Sam Clague returned to winning ways with a 21-8 win over Mark Quinn, captain Ian Watson beat Stephen Hampson 21-14, whilst Nathan Hamilton continues his good start to the season with a 21-10 win over Steve Cook.
Marown B reversed their 2-8 defeat from the previous week with an 8-2 home win over Douglas A with two changes made from the last team with Bobby Thorne coming in to record a 21-14 win over Andy Cannell, whilst James Kelly also came in and just missed out 20-21 against Shaun Seal. Stephen Rundle stayed with the B Team this week and got his reward with a 21-20 win over Ian Moore, whilst Karl Parker beat Gary Conwell 21-7, with Brian Kelly winning 21-8 against Gordon Wynne-Smythe. The second winner for Douglas was Jimmy Sansom, who would have been pleased to take a 21-10 win over Glenn Boland.
In division two Marown C pulled off the shock of the night with a 3-7 win away to South Ramsey B, who continue to make life hard for themselves in their quest for an immediate return to division one. Winning for the visitors were Kevin Kelly who recorded his second win in five days on the same green, this time seeing off Christian Caley with a 21-12 win, Jamie Joughin performed well to win 21-13 against Austin Hart, whilst Carey Dewhirst just got home with a 21-20 win over Steven Waters. Winning for the home team were Edward Carlyle who has returned from an injury over the winter to beat Matt Derrick 21-12, ably backed up Bryan Corner and the ever reliable Tony Dugdale.
Port Erin A continue to set the pace at the top of division two with their second 9-1 win of the season, this time seeing off Finch Hill B at Breagle Glen. For the home team Harry Minor, Derek Cadamy, Bernie Durcan and David Cain all won to single figures, with Brian Murphy sparing the whitewash with a surprise 21-19 win over Steve Durcan.
Finch Hill A sit in second place following their 8-2 home win over Peel C, with Onchan B performing well to record a 3-7 away victory over Castletown B with Will Penhallurick continues to impress in division two having only taken up the game last year, he took a 21-15 win over George Peach. Douglas B won 8-2 at home against Port St Mary B with single figure wins from Andy Foster, Steve Gregg & Willy Cowley. In division three only a point separates Ballaugh C and their higher ranked B side who sit at the top, with the B winning 7-3 at home against Castletown C, whilst the C bettered this with a 1-9 away win over Douglas C. South Ramsey D won 7-3 over Douglas with all five wins being to single figures. Marown D recorded their first ever win with 7-3 home victory over Noble's B, with the visitors Junior player – 12-year-old Alex Hampson impressing with a 21-20 win over Steve Cain. Finishing off the round of fixtures Onchan C won 3-7 away to Peel D.