Peel A and South Ramsey A to Face off in Rayner Shield Final – Good week for South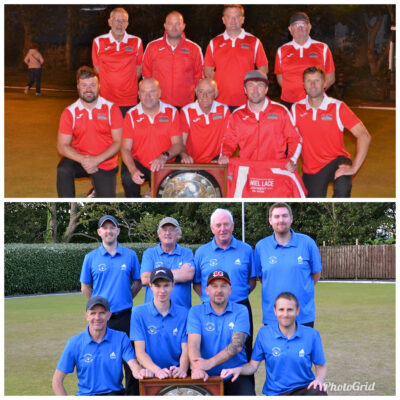 Peel A had the toughest match of the top three teams in Ellan Vannin Fuels Division One this week as they hosted Onchan A with the home team taking a reasonable 7-3 win, however they did lose some ground on the league leaders. The game was close with just three chalks separating the teams (143-140). For the visitors Matthew Quirk returned to winning ways with a 21-8 win over Tom Kelly, a result matched by the home team as Andy Kennish beat Mark Kelly. Also winning for Onchan were Reginald Temporaza who beat Gary Smith 21-15, with Phil Kerruish beating Peter Greenlees to the same score. For the home team winning four high scoring games were Dave 'Barney' Kelly who beat Peter Slinger 21-16, Tommy McMeiken beat Kevin Quirk 21-17, while Ste Kelly and George Gadsby both won 21-18 against Frank Watson and Jordan Cain respectively.
Marown A had a tough looking away fixture to Castletown A at the Crofts, however they got through the fixture relatively unscathed matching the 1-9 win that league leaders South Ramsey A picked up in June. The only winner for the Town men was Aaron Richardson with an impressive 21-13 win over John Gelling, while Bob Clark was next highest scorer for the home team losing 18-21 after going into a 17-13 lead only for Colin Kelly to see the game out for the Crosby men. There were two single figure wins for Marown with Neil Withers winning 21-2 against Ian Watson, while Paul Kelly beat Dean Kinley 21-5.
League leaders South Ramsey A had a solid 10-0 home win over near rivals North Ramsey A, with the result never in doubt as visiting captain Gary Merrill was the highest scorer losing 15-21 to Alan Moore, while David Bradford and Glynn Hargraves both won to single figures.
Noble's A won't have been too disheartened to lose 3-7 away to Ballaugh A as just four chalks separated the teams in favour of the Ballaugh men (145-141) with their wins coming from Mark Kneen, Sam Stannard-Duke and Les Brookes.
Port St Mary A could start to slide down the league now, as they have just one home league fixture remaining this season, as they lost 3-7 away to Douglas A. Winning for the home team were Andy Cannell, who won 21-3 against Tom Collins, Shaun Seal who is performing well this season beat Dan McCabe 21-15, while Jimmy Sansom won 21-13 against Robbie Cooil. Ian Moore had a good 21-10 win against Wayne Roberts and Keith Rise had an impressive 21-11 win over Paul Skelly. For Port Trevor Quayle just crept home 21-20 against Villa captain Merv Sayle, while Paul Russell and Tim Williams both won their second successive away game in a week.
Marown B hosted Peel B with the home team improving on the 7-3 win their higher ranked A team recorded last month as they won 8-2, with Jamie Joughin stepping up from the C team as he did his case for full time promotion to the B team absolutely no harm at all winning 21-6 against Dave Smith, with that win also matched by Brian Kelly who beat Rob Middleton and Peter Kelly showing his class to beat Paul 'Pooky' Quirk. Karl Parker edged a tough game with Brian Lindsay to win 21-17, with John Kelly also having to battle hard to beat the 'real' Paul Quirk 21-19. Winning for the visitors were Mick Kavanagh as he beat James Kelly 21-10, while David Proctor won comfortably 21-11 against Darren Kerruish.
In Division Two Finch Hill A came unstuck away to Onchan B as they lost 8-2, while South Ramsey B bounced back to hit top spot this week with two wins as they won 3-7 away to Peel C. On Wednesday they played their rearranged fixture at home to Port St Mary B, winning 9-1 with Austin Hart losing out 17-21 to Derek Cain.
Marown C picked up a brilliant 2-8 away win over Port St Mary B, whilst Douglas B won 2-8 away from home against Finch Hill B.
Castletown B sit in fourth place with a game in hand, stay firmly in the mix following their 4-6 away win over South Ramsey C.
In Division Three league leaders Onchan C won 7-3 at home to South Ramsey D with the visitors just missing out on the aggregate by just one chalk (132-131). Junior Ryan Hargraves got back to winning ways as he beat Brian Aspden 21-12.
Peel D took a good 3-7 away win over Marown D, just winning out on two extra points with Andrew Cover losing 20-21 to fellow new bowler Steve Cain, while Owen Crompton lost 18-21 to Alan Gault.
Third placed Ballaugh C won 7-3 at home to their nearest rivals Port Erin B, who sit in fourth spot, while Noble's B won 6-4 at home to Douglas C with 13 chalks separating the teams (137-124).
Douglas D have their new bowlers continuing to impress as won 7-3 at home to Castletown C, with wins from Ashley Halsall, Greg Tomlinson, John Ferguson, Nick Firth and David Cowley with the new guys no doubt competing to outdo each other, it forms healthy competition within the team.
Rayner Shield
On Wednesday night current league champions Marown A hosted South Ramsey A in the second semi-final of the Rayner Shield with the Crosby men beating the same opponents 6-2 at the same stage at home last season they started as clear favourites.
It was Neil Withers who got the Crosby men off to a fine start with a 21-8 win over Stefan Kelly. South Ramsey hit back with captain Glynn Hargraves beating Matthew Keggen 21-12, while James Teare fought back from a 16-19 deficit to beat Dean Kipling 21-19. David Bradford came close to winning to single figures against Manx Champion Colin Kelly before a comeback from Kelly as he reached 14-20 only for Bradford to play a great last bowl to seal a 21-14 win and a 3-1 lead at the half way stage.
In the second half Paul Kelly gave the Crosby men some hope with a resounding 21-5 win over Chas Grills, with the chalks still in play if Marown could win two more games on the night as Kelly put the match score to 2-3 with Marown holding an 11 chalk advantage (87-76). Hope started to fizzle out for Marown as Peter Collister was quickly off the green with a 21-10 win over Phil Kelly, with Dave 'Dido' Kelly also holding a big lead over Juan Killip as he went on to win 21-6 to seal the win for South. Last game off was Alan Moore who took on home captain Paul Dunn, with only personal pride to play for, however Moore played brilliantly as he won 21-15 to seal a 6-2 win for the visitors and in doing so put the icing on the cake on a fine night of bowls played in front of a good crowd with a great atmosphere.
South Ramsey A now go on to play Peel A in the final, which is due to be held on Thursday 26th August with the venue to be confirmed.