Moore & Teare Go One Better to Win Sowerbutts Trophy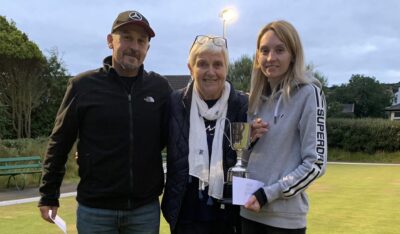 Port Erin Bowling Club hosted the F.M. Sowerbutts Memorial Trophy Mixed Doubles on Bank Holiday Monday. The competition was well supported.
Bowing out at the semi-final stage were Marown Pair Debbie Leece & Neil Withers to Elaine Moore & Glynn Hargraves (South Ramsey), whilst in the other semi-final it was an all-South Ramsey affair with club mates Fiona Kennish and Steven Waters who were beaten by Jenny Moore & James Teare.
In a repeat of the 2020 final Jenny and James got off to the better start with Elaine and Glynn the current holders of the trophy taking the first end then lying four in the corner only for James to play a great counting bowl. From there Jenny and James took control of the game to go into a 16-6 lead. Elaine and Glynn got back in to score a single, a four in the corner and another single to pull the deficit back to 12-16 to threaten a comeback. With the comeback on Jenny and James responded with two singles and a double to go 20-12 ahead and then conceded a single. On the last end Jenny and James were counting two, with Elaine being slightly unlucky with her last bowl connecting with the jack but carrying it through to Jenny's bowl to secure the one point they needed to take a 21-13 victory and in doing so went one better than the previous year.
The presentation was made by Janet Shilling who thanked everyone who had entered, the club members for their support & providing the refreshments. In his speech James thanked Port Erin for running the competition along with Janet Shilling for sponsoring the competition in memory of her father.