Moore & Hargraves Win Sowerbutts Trophy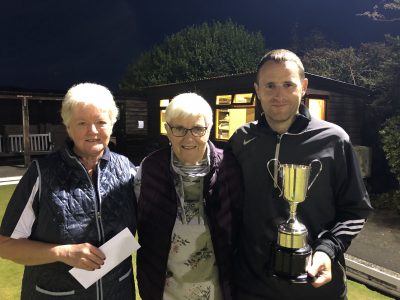 Port Erin Bowling Club hosted the F.M. Sowerbutts Memorial Trophy Mixed Doubles on Bank Holiday Monday. This was another competition that was well supported with some pairs needing to play six games to reach the final.
Bowing out at the semi-final stage were Philippa Taylor (Marown) & Alec Taylor (Peel) to Elaine Moore & Glynn Hargraves (South Ramsey), whilst in the other semi-final Lyn Bolton (South Ramsey) & Trevor Quayle (Port St Mary) were beaten by Jenny Moore & James Teare (South Ramsey).
With the nights drawing in the final started under floodlights with Jenny & James making the better start building up a 13-10 lead, only for Elaine & Glynn to respond to turn the game on it's head to go ahead 19-13 with Elaine leading well in the corners. Jenny & James got back in and started to eat away at the lead and at 17-19 were lying four for game only for Hargraves to save three with a good second bowl, which didn't quite count to bring the score to 18-19. On the next end Jenny & James were counting one only for this to be beaten. On the final end Jenny & James were counting two, only for the counting bowls to again be beaten to ensure Elaine & Glynn secured a 21-18 victory to take the title.
The presentation was made by Janet Latham who thanked everyone who had entered, the club members for their support & providing the refreshments. In his speech Glynn thanked Port Erin for running the competition, Janet Latham for once again sponsoring the competition in memory of her father, also remarked on the significant improvement in the condition of the green this season since the club have taken over the maintenance of the green. Glynn also thanked everyone who had stayed to watch the final.