Marown Trio Win Inaugural Chas Grills Memorial Trophy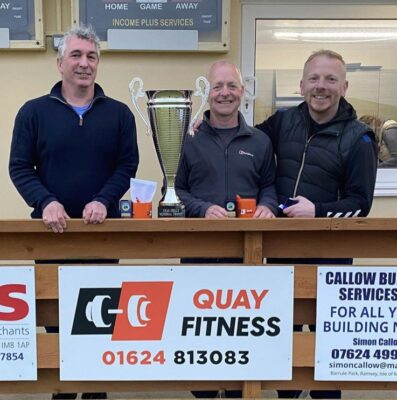 South Ramsey Bowling Club held the inaugural Chas Grills Memorial Trophy, following the loss of Chas who was a long serving club member who gave so much to the club over the course of six decades. The format of triples once again proved to be extremely popular amongst the Islands bowlers as 28 teams – 84 bowlers took part on a superb playing surface. The competition was once again sponsored by Quay Fitness Gym.
Losing out at the quarter final stage were Eddie Carlyle, Les Brookes and Brian Lindsay (South Ramsey, Finch Hill and Peel) 14-21 to South Ramsey's experienced trio of Roger Thomas, Brian Stewart and Anthony Kelly. Marown's Clare Cooper, Rebecca Teare and Debbie Leece just lost out 19-21 to club mates Colin Kelly, Walter McCarthy and Neil Withers. Jenny Moore, James Teare and Glynn Hargraves (all South Ramsey) were beaten 18-21 by Peter Jones, Matthew Keggen and Paul Kelly (all Marown) whilst another all South Ramsey team Austin Hart, Toby Hart and Alan Moore lost out 16-21 to Jordan Cain, Bob Clark (both South Ramsey) and Matthew Quirk (Onchan).
Falling at the semi-final stage after scoring their only point of the game on the first end were Thomas, Stewart and Kelly who lost 7-21 to the Marown men Kelly, McCarthy and Withers.
A close game was expected between Jones, Keggen and Kelly who were up against Cain, Clark and Quirk, however the latter team won comfortably 21-10.
In the final it was a low scoring contest with just two doubles scored after 10 ends the Marown men led 13-10. Two consecutive doubles for Cain, Clark and Quirk put the younger trio in the lead 14-10. The game flipped on its head from there as a single, a four, another single followed by a double from Kelly, McCarthy and Withers was enough to see the game out with a deserved 21-14 victory to become the first winners of the Chas Grills Memorial trophy.
At the presentation, South Ramsey Bowling Club Chairman Steve Moore thanked the sponsors and everybody at the club who helped make the competition a success, especially the catering team who kept everyone well fed over the course of the day. Chas' sister Sue Nicholas and his son David Grills were then introduced to present the prizes, which were paid out down to the quarter finals. A grand sum of £935 was raised for charity. David announced that IOM Sport Aid would be the nominated charity, with prize winners handing back their winnings the amount increased to £1,259. Sue then went on to say that Chas loved all sports and thanked everyone for the overwhelming support.