Marown Retain Club Team Championship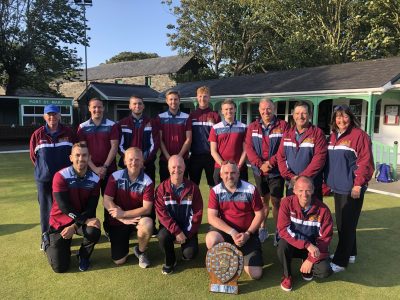 The Club Team Championship was brought to a conclusion at Port St Mary bowling club on Saturday afternoon with the semi-finals being played and the final being held immediately after.
This year the format changed to four doubles and six singles following an increase in the number of players in a team from 11 to 14 with the ladies now eligible to play. The four qualifiers from the group stages were Marown, Noble's, Peel & South Ramsey.
The change in format seemed popular with a good atmosphere around the green, which attracted over 120 people.
In the first semi-final Noble's were up against Peel, with Noble's using seven ladies in their starting line-up. Peel won 6-4 on games, however in this format the matches are decided on chalks, which Peel took comfortably by 31 chalks (179-148). The closest match was between Mary Moffatt (Peel) and David Pease (Noble's) with Mary taking a 21-19 win. A big factor in swinging the match in Peel's favour was three wins to single figures with Andy Kennish & David Proctor pairing up to defeat Steve Hall & Jan West 21-4, Tommy McMeiken won 21-7 against Kevin Firth whilst Joyce Kelly beat Terry Bates 21-8. Tom Kelly put in a good performance to defeat Debbie Leece 21-11, whilst for Noble's Alison Keggen beat Paul Quirk 21-15. Noble's other three wins all came from their doubles games.
In the second semi-final Marown were pushed fairly closely by South Ramsey who used six ladies in their team. The games won also ended 6-4 in favour of Marown with the chalks favouring Marown by 17 (185-168). There were several close individual encounters with Peter Kelly just getting past Edward Carlyle 21-20, James Kelly & John Kelly were paired together and just got over the line 21-19 against Elaine Moore & Chas Grills, whilst Neil Withers had a tough encounter with Shelley Kennish with Withers winning 21-18. South Ramsey secured two 21-19 wins in the doubles with Lyn Bolton & Stefan Kelly holding off Juan Killip & Colin Kelly, whilst Tony Dugdale & Sid Bolton got home against Philippa Taylor & Rosie Winkle. In the singles Dean Kipling put in a superb display to see off James Teare 21-7, whilst Fiona Kennish did likewise for South Ramsey with a 21-9 victory against Matthew Keggen. Dido Kelly put in a good performance to defeat Paul Kelly 21-12.
The final started immediately after the conclusion of the semi-final matches with Marown heavy favourites to retain the title they took last year. Marown didn't disappoint putting in a good performance to take control in the first half of the match winning the first five games to take a 44 chalk lead with two big wins in the doubles from John Kelly & Bobby Thorne (21-7) against Mick Kavanagh & David Proctor, whilst Dean Kipling & Paul Kelly won 21-8 against Tom Kelly & Paul Quirk. In the singles Matthew Keggen won 21-10 against Paul 'Pookie' Quirk, Rosie Winkle won 21-16 against Harry Kelly, whilst Harry Barton performed well to beat Andy Kennish 21-20.
In the second half Peel managed to pick up three wins with Mary Moffatt & Stevie Kelly teaming up to defeat Peter Kelly & Colin Kelly 21-15, Gary Smith & Peter Greenlees beat Philippa Taylor & Juan Killip 21-12 with Dave 'Barney' Kelly picking up a win in the singles with a hard fought 21-17 victory over James Kelly. In the remaining two games John Gelling beat Joyce Kelly 21-11, whilst Neil Withers had to work hard to hold off Tommy McMeiken 21-17. Marown won by a margin of 39 chalks (191-152).
The presentation was made by Association Press Officer Glynn Hargraves who thanked Port St Mary Bowling Club for being such superb hosts for finals day, with the club having helpers on hand to measure and the ladies providing superb refreshments, whilst also wishing the club well with their future. When accepting the trophy the winning captain Paul Kelly thanked his team, whilst also pointing out that it had been a club effort having used 28 players throughout the competition.