Marown A Hit Top Spot – Marown B Stun Peel A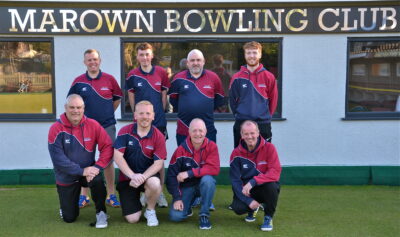 The fourth game of the Canada Life International season had something new in Division One with fixtures being scheduled for Friday evening which has traditionally been used for Ladies league matches.
Marown A welcomed Castletown A to Crosby, with the home team winning 9-1, it was visiting bowler Ron Williams who prevented the whitewash as he ensured former club mate Sam Clague did not get the better of him as he took a deserved 21-15 win. Also just missing out for the visitors was Chris Lever, who has never played league bowls prior to this season who performed admirably as he lost 20-21 to Phil Kelly. For the home team four of the wins were to single figures with the captains playing each other with Paul Dunn winning 21-5 against Ian Watson, while Neil Withers, Colin Kelly and Harry Barton all won 21-9. The result seen the Crosby men hit top spot for the first time this season.
Upset of the week was without doubt the result between Peel A and Marown B with the Crosby men showing their credentials for a top four finish this season as they came away with a 2-8 victory. Home team winners were Ste Kelly who beat Jamie Joughin 21-5 and George Gadsby who won 21-14 against Brian Kelly. For the visitors Kevin Kelly upset older brother Tom Kelly with a 21-16 win, Peter Kelly inflicted a first defeat of the season on Dean Kinley 21-19, a score matched by Juan Killip who beat Peter Greenlees. Glenn Boland beat Gary Smith 21-14, John Gelling won 21-17 against Tommy McMeiken, while Matthew Keggen won 21-15 against Philip Pemberton. The result helped the Crosby men to third place leapfrogging Peel, who fell from top of the table to fourth place.
South Ramsey A rose to second place with their 9-1 home win over Port St Mary A on a superb playing surface. The visitors had to dig deep for players this week, wheeling out the Hargraves brothers, with Glenn performing well against Peter Collister early on with the score tied at 7-7, only to lose 9-21, while older brother Juan was 12-13 with Stefan Kelly before losing out 13-21. Both performed well having not picked up a bowl this season. For the home team James Teare led the way with a 21-6 win over Jordan Drewett, while Bob Clark overcame a slow start to beat Tom Collins 21-9. Dido Kelly beat Nathan Hamilton 21-10, with Hamilton being the first player to reach double figures against Kelly this season, David Bradford won 21-136 against Bernard Thackrah, both captains clashed with Glynn Hargraves getting the better of Wayne Roberts 21-13. The last game of the night ensured the visitors didn't go home empty handed, as Trevor Quayle held off Jordan Cain to win 21-17.
North Ramsey A picked up their first win of the season as they edged it 6-4 on the night at Mooragh Park against Onchan B, thanks in part to Rob Monk receiving a walkover after Onchan fielded an illegible player as his opponent had played for Onchan C the previous evening in the same fixture number, which will result in deducted points for the B team as thy look to stay up it could prove costly at the end of the season. This ensured the aggregate went to the home team (145-122). Winning for the home team Steve Walmsley continued his fine start to the season as he beat Mike Kelly 21-9, Allan Callow won 21-10 against Mike Alexander, while Gary Merrill beat Colin Spence 21-19. For the visitors Frank Watson, Mark Kelly and Steve Parker had fairly comfortable wins over John Cannan, Tony Smart and Paul Cannan respectively, while Bernie McPhee beat Andrew Honour 21-18.
Peel B came away from their fixture with Port Erin A at Breagle Glen on a vastly improved green with a 4-6 win. For the home team father and son Bernie and Steve Durcan both won with Bernie winning 21-17 against Michael Kavanagh, while son Steve beat David Smith 21-16. For the visitors' captain Paul 'Pooky' Quirk won 21-5 against Peter Hulley, while Brian Lindsay won a close game 21-18 against Ian Taylor.
Onchan A had a close encounter at the Park with Douglas A, with the home team winning 6-4. Three big wins for the home team ensured the two-point aggregate went their way, with Phil Kerruish beating Willie Cowley 21-4, Matthew Quirk beat Gordon Wynne-Smythe 21-9, and Mike Thomas won 21-10 against Mervin Sayle. The home team's fourth win wasn't so comfortable with Neil Dunwell beating Jimmy Sansom 21-19. For the visitors Andy Cannell had the best win beating Will Penhallurick 21-11, Keith Rise showing he has still got it as he beat Kevin Quirk 21-12, Ian Moore got home 21-17 against Peter Slinger, while Shaun Seal got past Reg Temporaza 21-19.
In Division Two South Ramsey B went six points clear at the top thanks to a 0-10 away win over Noble's A, with the returning Sid Bolton leading the way for the visitors with a 21-5 victory over Juan Qualtrough. The home team scored enough chalks between them as they got 103 chalks on the night.
Castletown B sit in second place as they edged a tough encounter with South Ramsey C at the Crofts 6-4 with only six chalks separating them (138-132). George Peach was the best winner for the home team as he beat Christian Caley 21-9, with David Corkill responding for the visitors with a 21-7 win over Billy Jones.
Marown C leapt over Ballaugh A thanks to their 7-3 home win to sit in third place. Rayner Plate hero Stewart Clague edged home 21-20 against Barry McDonald, while Walter McCarthy was the best winner for the home team with a 21-11 win over Edgar Cowin. For the visitors Gordie Moore was their best winner as he beat Steve Wilson 21-8, Patrick Grant beat Rob Corkill 21-18, with Richard Hainge getting their third win of the night with a 21-17 victory over Bobby Thorne.
Elsewhere Peel C romped to a 9-1 home win over Onchan C, while Douglas B inflicted another defeat on Finch Hill A as they won 7-3, while Ballaugh B also won 7-3 at home to Port St Mary B.
In Division Three Noble's B continue their fine early season form to sit top of the table on 24 points with a solid 2-8 away win against Port Erin B, as Grahem Moore and Noel Ash both won 21-9. Home team winners were Ed Benson who beat Stephen Corkill 21-12, while Alan Crebbin won 21-10 against Alex Hampson.
A strong looking North Ramsey B sit level at the top on 24 points with Noble's B, following their 6-4 home win over Marown D. Paul Allison won 21-6 against Richard Bregazzi, while Mike Skelly, Brian Colquitt and Mike Skelly were the other winners for the home team. Winning for the visitors were James Kelly, Jay Waters, Steve Cain and Phil Dunn.
In other fixtures Douglas D beat Castletown C with the visitors fielding four junior bowlers, with two of them winning as Junior Keggen picked up his first league win in only his second league game as he beat James Teare 21-13, while Dylan Marsh won 21-20 against Greg Brew.
Ballaugh C and Douglas C played out a rare true draw as they drew 4-4 on games and tied on chalks 124-124. For the visitors Greg Tomlinson was the best winner on the night with a 21-4 win over Brian Lace, while team mate Nick Firth beat Michael Ellis 21-8. For the home team Peter Corlett won 21-7 against John Harrison, while Paul Cubbon beat David Cowley 21-8.