Marown A Bounce Back – Mixed League Continues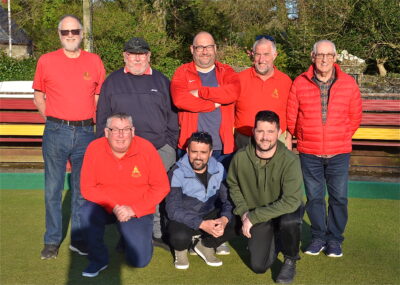 In Canada Life International Division One this week Marown A bounced back from defeat in their previous outing with a 10-0 win (168-69) over Peel B. Just two of the visiting players made it into double figures, with Paul Quirk losing out 13-21 to Neil Withers and David Proctor was the highest scorer as he scored 16 against Paul Kelly. Phil Kelly was the best winner for the home team as he bounced back from his heavy defeat the previous week to beat Philip Pemberton 21-5.
League leaders South Ramsey A had a good 2-8 away win as they took on Peel A in the Sunset city. Winning for the home team were Dean Kinley with a 21-19 win over Jordan Cain, while George Gadsby was pushed all the way and got over the line with a 21-20 win against Bob Clark. Dido Kelly kept up his unbeaten start to the season with a 21-18 win over Peter Greenlees.
Marown B remain in third place, they came away from the Villa with a 3-7 win over Douglas A. Kevin Kelly stepped into the B Team and did not look out of place in any way as he won 21-6 against Shaun Seal. For the home team Andy Cannell was the best winner with a 21-8 victory over Jamie Joughin.
Onchan A sit in joint third place with Marown B, as they took on Onchan B, following their 8-2 victory with three single figure wins, while the two winners for the B were Bernie McPhee who beat Neil Dunwell 21-13, and Mike Alexander who beat Mike Thomas 21-19.
Port Erin A had their spirits lifted as they claimed their first league win of the season as they beat North Ramsey A 7-3 at Breagle Glen. Allan Callow was the best winner on the night as he beat Steve Durcan 21-8, Adrian Skinner won 21-12 against Peter Hulley and Paul Allison made it four wins from four games played as he continues his comeback having not played league bowls for five years.
Castletown A hosted Port St Mary A at the Crofts, as they managed to scrape a 7-3 home win taking the aggregate by a solitary chalk (144-143). For Town Mark Moorley beat Trevor Quayle in a good quality game. For the visitors Paul Skelly picked up only his second league win of the season, as did Jordan Drewett who returned to his former stomping ground as he scrambled home with a 21-20 win over Ron Williams, while it wasn't such a happy return for Nathan Hamilton who lost out 18-21 to George Foy.
In Division Two South Ramsey B kept the foot on the throttle with a 9-1 win over third placed Ballaugh A as they used home advantage to good effect despite the heavy rain overnight and the showers throughout. Austin Hart returned to the team with a 21-7 win over Gordie Moore, captain Ben Dugdale beat Richard Hainge 21-18, while Alan Moore was staring down the barrel at a 0-9 deficit against Patrick Grant, before recovering only to be lying two down at 20-20 and bowled in to win the game 21-20. Preventing the whitewash was Barry McDonald who beat Eddie Carlyle 21-13.
Marown C remain in second spot thanks to another 7-3 home win over Douglas B on Tuesday, with Walter McCarthy winning 21-7 against Stuart Garrett, while Dan Smith had it all to do as he beat Mark Kneen 21-20. For the Villa men it was good to see the return of Gary Conwell, who made it two wins from two played as he beat Peter Kelly 21-14.
Noble's A had a tough time on Monday evening as they hosted South Ramsey C, with the visitors coming away with a 2-8 win. For the visitors' captain Tony Hart led the way with a 21-5 win over Martyn Hobson, while Jim Collister was the best winner for the home team as he beat Anthony Kelly 21-15, with Alex Yates not far behind as he won 21-16 against James Evans.
Onchan C came away from taking on Ballaugh B with a vital 2-8 win to go level on points with their opponent on the night. Their cause was helped by Brian Aspden's 21-7 win over Mike Buckeridge, while Sid McKnight won 21-20 against Ray Parry.
Finch Hill A stayed in the hunt as they are in fourth place following a good 1-9 away win over Port St Mary B. Individual merit leader Paul Dougherty just about held on to his unbeaten record as he beat Peter Collins 21-20. The Finch men just missed out on a 10-0 win by four chalks as Nicholas Peterson managed to see off Tony Epifani 21-17.
In Division Three North Ramsey B kept a firm grip on top spot as they beat Port Erin B 9-1 at Mooragh Park. The visitors cause not helped by being two men short as they failed to score 100 chalks (164-78) with Ed Benson the only winner for the visitors as he beat John Piekalns 21-17.
Marown D are well placed in second spot, just eight points behind the league leaders with 47 points and a game in hand as they won 2-8 away to Douglas D. Jay Waters continues to lead the individual merit following his 21-7 win over Mark Clarke, while Charlie Bell who is relatively new to the game beat William Cowley 21-6.
South Ramsey D weren't able to make home advantage count against Noble's B, with some doubt as to whether the match would go ahead due to the heavy rain. For South Matthew Corkill continues his fine start to the season as he made it six wins from seven games as he beat Michael Johnson 21-10. Richie Davies won 21-16 against Noel Ash, while Ryan Hargraves edged the battle of the Juniors as he won 21-20 against Alex Hampson. For the visitors Ciaran Broad having just taken up bowls this season also made it six wins from seven, as he beat Billy Blair 21-11 to claim the best win for his team.
Castletown C had a tough night at home to Peel D as they lost 3-7. Colin Moore was the best winner for the visitors with a 21-4 win over Dylan Marsh. For Town Paul Cromwell was their best winner as he beat Charlie McMeiken 21-7.
There were two matches called off last week due to the weather – In Division Two Peel C were due to host Castletown B, while in Division Three Finch Hill B were due to play Douglas C.
The second round of fixtures in the Mixed League group stages were played on Wednesday evening with both matches in Group A being won 6-3 by the home teams. North Ramsey A beat Onchan A at Mooragh Park by 46 chalks (159-113), while on the other side of Ramsey South A beat Castletown A by 27 chalks (164-137).
In Group B Marown A came away from another visit to Breagle Glen with a 3-6 win over Port St Mary as they won by 29 chalks (136-165). Douglas A also won 6-3 at home to Port Erin with the home team winning by 40 chalks (172-132).
In the Plate Competition in Group A, Noble's appear to be shaping up as favourites in their group as they beat North Ramsey B 7-2 at home, winning by a margin of 59 chalks (171-112). Peel recorded a solid 2-7 away win over Castletown B winning comfortably on chalks (125-165).
In Group B Marown B hosted South Ramsey B at Crosby with the young home team just falling short by six chalks (154-160), with some good individual performances from the juniors and new bowlers on both teams, with the visitors winning 3-6. Ballaugh recorded the biggest win of the night as they won 7-2 at home to Douglas B, as they won by 62 chalks (176-114).