Juniors Shine whilst Roberts & Quayle Win Lilian Slinger Memorial Trophy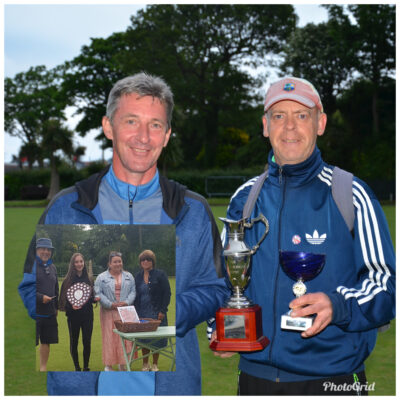 It was a busy day for North Ramsey bowling club on Saturday when two events were held in the beautiful Mooragh Park.
In the morning the inaugural Rheuben Thomas Memorial Trophy was held for with 23 juniors taking part. The under 11's bowlers played a round robin format in two groups. The winners of each group were Katie Roberts and Bailey McMullan. They then played a final match with home greenerBailey coming out on top and Katie a very worthy runner-up.
The over 11's group had some great games with the semi-finals between Toby Hart (South Ramsey) losing out 15-21 to Luke Kenna (North Ramsey), whilst Alex Hampson (Noble's) was defeated 20-21 by Grace Gawne (Onchan) with both being very exciting games.
In the final Luke and Grace played some great bowls but Grace Gawne was the winner.
Rheuben Thomas was a very popular member of North Ramsey and when he sadly died earlier this year his family wanted him to be remembered by promoting junior bowls. Prizes were awarded by his wife Heidi and daughter Millie.
The afternoon competition was the Lilian Slinger any combination doubles event. 36 pairs took to the green in the opening rounds.
From the start the standard of bowling was superb with competition strong across the age groups and clubs. After many close games the semi-finals were played. Wayne Roberts and Trevor Quayle (Port St Mary) were up against Jenny Moore and James Teare (South Ramsey). Jenny and James were quickly 11-5 up but Wayne and Trevor gained control and after six ends were 17-11 up eventually winning 21-15. The other semi-final was between Lil Smith and Rosie Winkle (Marown) against Paul Dunn and Arnie Withers (Marown) with the girls on the back foot after five ends down 5-14 but 11 ends later they won 21-14.
After a long day the final was game set and match to the boys Roberts & Quayle, who were dominant from the start, but Lil and Rosie had some great bowls and thoroughly deserved their place in the final.
The prizes were awarded by Lilian's great granddaughter Eva and thanks were given by North Ramsey to the family for their sponsorship and trophies. Thanks were also given by the winners to North Ramsey for organising and running such a successful event.