Junior Bowlers Impress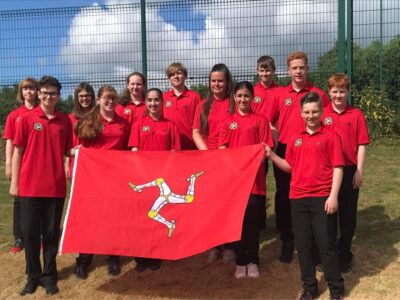 Two Isle of Man Junior Teams took part in the Ladies British Crown Green Bowling Association six-a-side Championship at Heaton Park in Manchester last weekend, with the rules dictating that a minimum of two female bowlers be fielded in a team, this was never going to be a problem for the Isle of Man, who are well blessed in this area. Both teams were due to play four games, however due to other counties pulling out at late notice the competition had to be restructured.
Isle of Man 'A' were in Group 1, a four team group with Warwick & Worcestershire B, Yorkshire and Cheshire. In Group 2 Isle of Man 'B' were in a three team group with North Lancs & Fylde and Warwick & Worcestershire A.
In the first game the A against Warwick & Worcestershire B, Lacey McMullan was one of many making her debut for the Island, performing well as she went to win 15-12, whilst Alex Hampson romped home 15-0, with Castletown's Dylan Marsh not far behind as he won 15-3. Dylan's club mate Sam Quayle also scored well as he lost out 12-15. From the chalks secured across the six games played the A won 64-60 to make an impressive start.
In the second round of fixtures, it was a lot tougher against a strong Yorkshire side, with Noble's Alex Hampson the lone winner as he won 15-10, whilst Castletown pair Aalish Moore and Dylan Marsh scored nine and eight chalks respectively. Overall the team were defeated 43-85.
In their final game they were up against Cheshire, once it again Alex Hampson who stood out as he racked up a third win of the day this time holding his nerve to win 15-14. Sam Quayle will have been delighted to pick up his first win representing the Island Team as he won 15-9. In this game the team lost 48-83.
In Group 2, Isle of Man B were up against North Lancs & Fylde in their first match, with Junior Merit runner up Grace Gawne storming home 15-2, whilst Katie Jacobs, also had a comfortable 15-6 victory. Grace's twin sister Lily Gawne scored a good nine chalks. Overall the team lost out 47-68 in this game.
In the second round of games the B were up against Warwick & Worcestershire A, they performed extremely well losing out by just 16 chalks 55-71. Marown player Alex Colquitt had a brilliant 15-7 win, Lily Gawne picked up her first win for the Island with a solid 15-8 victory, whilst Douglas junior Katie Jacobs scored a respectable eight chalks.
The winner from each group went on to face each other with Yorkshire taking on Warwick & Worcestershire A in the final it was the latter who took the bragging rights as they won 63-89, dropping just one chalk.
Thank you to the coaches Tracy Moore and Merv Sayle, along with the parents who accompanied the children. Once again the Island Team received nothing but praise from other county team representatives, not just for the way they performed, but for the way they behaved on and on off the green, they were a credit to their parents, clubs and the Island. Despite tasting a few heavy defeats the scores did not reflect the performance, with most of our Juniors who were playing for the first time at this level facing more experienced bowlers.
For me personally, with a number of the more experienced Junior bowlers no longer being eligible to compete at this level next year, this was a good opportunity to give our younger Junior bowlers something to aspire to, with vital experience obtained and exposure to what it is like to represent the island at this level. Once again it was a great weekend for our Juniors.