July CLI Players of the Month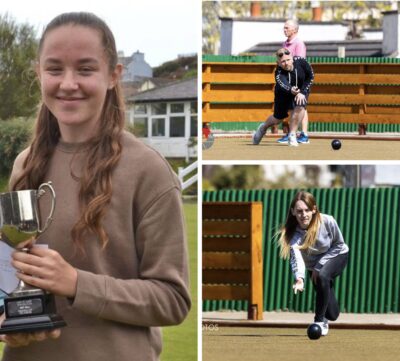 Congratulations to July Canada Life International Award winners:-
Men's Player of the Month: Neil Withers – Marown
Ladies Player of the Month: Jenny Moore – South Ramsey
Under 21's Player of the Month: Madison McMullan – North Ramsey
Neil or 'Nev' to most had reached four finals prior to July, without quite getting over the line. I did call out in my Manx Championship Finals Day Preview that he was knocking on the door. In July Nev didn't just open the door, he knocked it down!
A second Manx Championship was picked up at Castletown at the start of the Month, coming through a tough draw as he followed up on his 2009 success. A first win in the Dreswick Cup soon followed, then two days later a third time of lifting the famous Peel Town Cup. For his club team Withers won all seven games, which included a particularly impressive 21-13 win over Kevin Quirk at Onchan.
Jenny was the obvious choice for the Ladies section this month as she picked up Manx Championship title number six, retaining the title successfully. Jenny also had success in the Spar Mixed Doubles at Ballaugh with her partner James Teare. Further individual success followed in the Jordan Cup held at Noble's with Moore beating Jayne Smith in the final. For her club team it was eight wins out of eight games played, with Moore looking odds on to go the season unbeaten in the Ladies Night league with 18 wins from 18 games played, with just four games left in the 2023 season.
Madison had a great month as she picked up the girls Junior merit sweeping aside all opponents on the day. McMullan's club form was particularly impressive beating some tough and experienced players throughout the month, with wins against Keith Rise in the Mixed Team Championship, Debbie Leece in the night league, and Hannah Drewett in the Jean Kelly Knockout competition. Five of Madison's team victories during the month were to single figures.