JMS Success For Peel Sunset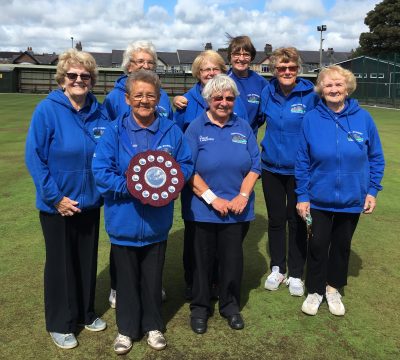 The JMS Veterans Shield Final took place on Thursday 16th August at Finch Hill Bowling Club with Peel Sunset facing Port St Mary B.  Port St Mary B will start with a 20 point handicap.
Peel Sunset compete in their third JMS final having won the competition once in 2014.  Port St Mary B will take part in their first final.
Peel Sunset made inroads into the handicap winning the first three games as Pat Robertson beat Chris Holland 21-11, Joyce Kelly beat Pauline Worrall 21-6 and Cath Parker defeated Edwina Reid 21-11.  Peel after these three games had wiped out their handicap deficit and built a strong lead of 15 chalks.
In the back three games Port St Mary faired better winning two of the three games as Mavis Franks beat Lynda Wilson 21-10 and Brenda Hawkard just held on to defeat Heather Horsburgh 21-20.  These wins could only reduce the gap to three points, and with Mary Moffatt dominating her game and winning 21-11 against Roma Ware the victory for Peel Sunset was sealed with an overall 11 chalk win 114-103 (4-3).
Thanks go to Finch Hill for hosting the final and to Janet Latham for her continued sponsorship of the competition.