Isle of Man Juniors were on fire in the heat in Manchester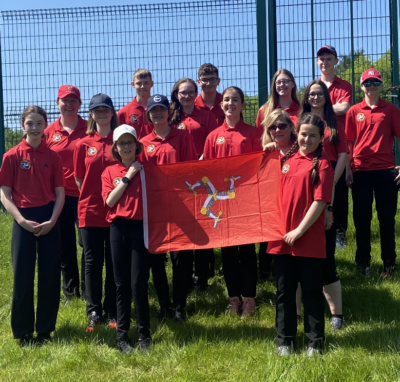 The following thirteen juniors travelled to Heaton Park on Saturday 20th May to play in the BCGBA ladies section run Junior Championships, Emily Cooper, Grace Cooper, Emily Jacobs, Katie Jacobs, Graiagh Smith, David Manley, Aalish Moore, Sam Quayle, Dylan Marsh, Erin Quayle, Alex Hampson, Lacey McMullan and Bailey McMullan. With only five teams taking part there was only one group and the first round saw IOM A play IOM B. The result shows just how how well match all of them are with the B beating the A team 81-79. Grace, Emily C, David and Lacey winning for the B and Graiagh and Katie winning for the A.

The second round for IOM A saw them change greens which will have had an impact on their match result when they were beaten by a strong Yorkshire side, 32-90. The IOM B stayed on the same green as their first match and did well against Warwick & Worcester B 45-81. David and Erin both winning their games.

The third round for IOM A was against Warwick & Worcester A. Alex Hampson helped keep the opponents score down with a 15-0 win. Dylan Marsh came back from 0-10 down to just lose 14-15 on the last bowl of the game. Thanks goes to our super supporter Shannon McMullan for her encouragement. Final match result was 50-75. The IOM B team sat this round out.

The forth round was the final match for IOM A against Warwick & Worcester B and with four winners, Dylan, Sam, Katie and Graiagh, Alex dropping 3 points and Aalish dropping 7 points the team won 80-51. IOM B were up against the strong Yorkshire side but came away with a great score of 67-75. David winning his third game, Grace and Emily C winning their second.

The fifth and final round, IOM B played Warwick & Worcester B and there was only 1 point in it. Winners were Grace, Bailey and Lacey. David got 12, so only dropping 3 points all day. Last game of the day saw our youngest bowler Emily Jacobs have an epic battle. 3-9 down to 12-12, then unfortunately losing the next three ends to ones. The match result was 79-80.

Yorkshire were the overall winners, Warwick & Worcester A second, with Warwick & Worcester B, IOM A & IOM B coming joint third.

Thanks goes to BCGBA Ladies section and Yvette Gregory for running the competition, IOMCCGBA for expenses, Tina Hampson for all the organising of the teams on the day, Andy Kennish for travel and all parents and supporters.