Hargraves and Tasker take the Honours in Douglas Town Cup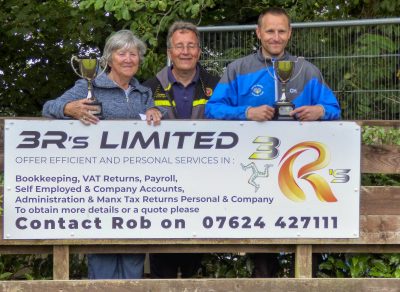 The 3R'S Accountancy and Book Keeping sponsored Douglas Town Cup saw a great turnout for an event which featured both ladies and men's competitions.
With the men's event starting at the earlier time of 11:00 on Sunday morning we saw some great battles in the early stages, which led to the quarter finals where Glynn Hargraves (South Ramsey) beat Sam Clague (Castletown) 21-13, Paul Dunn (Marown) took a 21-10 win from Willy Cowley (Douglas), Matthew Quirk (Onchan) beat Alec Taylor (Peel) 21-10 and an epic battle between Andy Kennish (Peel) and Dave McCabe (Finch Hill) saw Kennish just edge home 21-20.
The semi-finals saw a great match between 2019 finalists Paul Dunn and Glynn Hargraves with the latter winning 21-19, whilst Matthew Quirk outplayed a tiring Andy Kennish to win 21-16.
The final saw Hargraves start well building up a 11-4 lead. Quirk managed to pull the score back to 10-12, before Hargraves went on another run to lead 20-10. Quirk battled well to score a further five points before Hargraves secured the point needed to take a 21-15 victory to retain the Douglas Town Cup.
The Ladies event also had a good turnout. At the quarter final stage Amanda Lawler (Castletown) lost out 10-21 to Debbie Leece (Noble's), Lynda Cadamy (Port Erin) was beaten 15-21 by Paula Garrett (Noble's), Trish Bull (Port St Mary) defeated Tina Hampson (Onchan) 21-16, whilst Margie Tasker (Port St Mary) ended the challenge of Sue Gawne (Onchan).
In the semi-finals team mates Debbie Leece & Paula Garrett met up, whilst Trish Bull (Port St Mary) took on team mate Margaret Tasker. Debbie Leece and Paula Garrett had a great battle with Paula just taking a 21-18 win and Margie Tasker beat her old friend Trish Bull to earn a place in the final.
Once again we had a great final with Paula Garrett not leading quite as well as her opponent so it was Margie Tasker who took the 2020 Douglas Town Cup Ladies title with a 21-16 victory.
Many thanks must go to everyone who worked so hard to make this such a successful and friendly event and special thanks must go to Rob Matthews and his 3R's company for their continued sponsorship. Rob not only sponsored the event but he played in it as well as selling raffle tickets and marking score cards all day.