Friends Provident Men's Doubles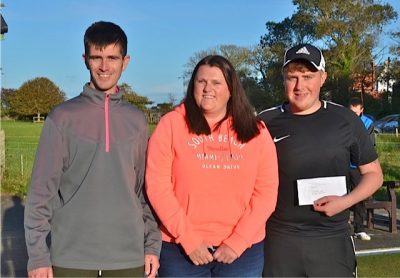 An Entry of 32 players (16 pairs) played at Port St Mary Bowling Club.
The 32 players were split into 2 groups, A and B, based on the league merit tables and which league the individuals play in, with group A being mostly 1st division bowlers.
One player was drawn from each group to make up the teams. This made for many close matches in every round of the competition, including the final which was won 21 – 20 by Jordan Cain & Nathan Hamilton against James Teare & Glenn Boland.
Losing at the semi-final stages were Alan Moore & Tom Collins and Glynn Hargraves & Derek Kneen.
With the weather also behaving itself, a very enjoyable afternoon was had by all.
At the Presentation, the President Of P.S.M. Bowling Club Ken Karran thanked the sponsors Friends Provident, the greenkeeper Ewan Cooil, the Ladies catering team, and everyone else that helped on the day.
Ken Karran then introduced Katy Williams of Friends Provident to present the prizes.
This open was added to this season's schedule after some extra dates became available. After a lot of good feedback on the day from the players and spectators it is hoped that event will go ahead again next season.