Douglas Town Cup Wins for Moore and Quayle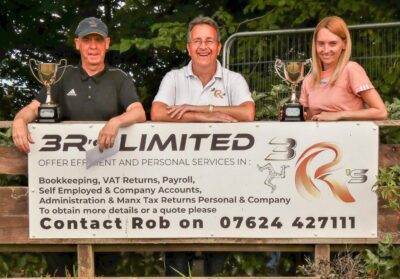 Sunday 1st August saw the 3R's Limited sponsored Douglas Town Cup event with both Ladies and Men's Singles being held by Douglas Bowling Club on their Green at the Villa Marina.
In the Ladies Event at quarter final Stage we saw Clare Cooper (Marown) beat Paula Garrett (Douglas) 21-14 and Janet Monk (North Ramsey) beat Kim Hargraves (South Ramsey) 21-16 while Margie Tasker (Port St Mary) beat Shannon McMullan (North Ramsey) 21-15. In the final quarter-final we saw Jenny Moore (South Ramsey) beat Rebecca Teare (Marown) 21-11.
The semi-finals saw a close battle between Monk and Cooper with Janet eventually taking a 21-18 win and Moore proved to be too strong for Tasker as she took a 21-14 win.
The final started with Moore leading well but with Monk playing some great second bowls to take the ends. As the game progressed Moore gradually took control and played well to take the win 21-13.
The Men's event saw some great bowls throughout and at the quarter final stage Glynn Hargraves (South Ramsey) beat Will Penhallurick (Onchan) 21-16, Reg Temporaza (Onchan) also beat Nathan Hamilton (Castletown) 21-16 and Trevor Quayle (Port St Mary) beat Phil Kelly (Marown) 21-17. The last Quarter Final saw a strong performance from Neil Withers (Marown) as he beat Steven Waters (South Ramsey) 21-7.
In the semi-finals a great battle between Hargraves and Temporaza saw Hargraves edging a 21-20 win and the second semi-final saw Quayle play superbly to beat Withers 21-10.
It was nice to see that a good crowd had stayed to watch the finals and they were treated to a great display of bowling from both finalists with Quayle eventually beating Hargraves 21-20.
The Trophies were presented by Rob Mathews of 3R's Limited who thanked everyone who helped to put on the event and the competitors for a great display of bowling while Trevor Quayle on receiving his Trophy thanked the sponsor and Douglas Bowling Club for putting on the event.