Cooper & Clark Win Spar Mixed Doubles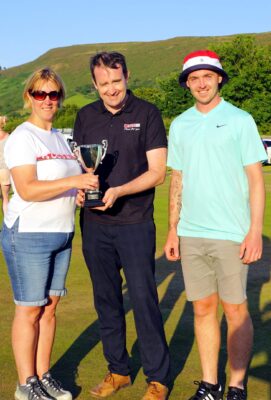 On Sunday Ballaugh Bowling Club held the Spar Mixed Doubles on a glorious day in a wonderful setting. With a field of 45 pairs it was always going to be a long day with the final finishing just before 8pm.
In the top half of the draw the two quarter finals were Chris Price and Wayne Roberts (Port St Mary) against Clare Cooper (Marown) and Bob Clark (Castletown). After 10 ends there was just one point in it but Cooper and Clark then scored steadily and won 21-16. The second quarter final was an all South Ramsey affair with Elaine Moore and Glynn Hargraves versus Jenny Moore and James Teare after 10 ends it was 17-8 to Jenny and James but Elaine and Glynn pegged it back to 19-15 before James and Jenny got two singles to win 21-15.
In the bottom half of the draw home greeners Shirley Watling and Richard Green versus Lyn Bolton (South Ramsey) and Trevor Quayle (Port St Mary). The more experienced pairing of Bolton and Quayle took the game 21-9. The final quarter final was between Helen Withers and Karl Parker (Marown) versus home greeners Michele and Paul Cubbon. After 16 ends it was 18-17 to Withers and Parker then a three gave them the win 21-17. Before going on to the semi-finals can I commend the two Ballaugh pairings with all the players being relatively new to the sport they acquitted themselves well.
In the semi-final the game between Cooper and Clark versus Moore and Teare was close up to end 14 then Cooper and Clark took four straight ends culminating in a four to win 21-14. Bolton and Quayle were ahead from the fifth end against Withers and Parker and kept ahead to win 21-15.
As so to the final Claire and Bob scored consistently to win 21-13 against Bolton and Quayle.
At the conclusion Club Captain John Maddrell thanked everyone for supporting the event, the green keeper Matt Moffatt for preparing the green, the Ladies for such wonderful catering and Jonathon Kermode of Spar for sponsoring the competition for the 10th time. John also thanked Richard Faragher, Maurice O'Reilly and Trevor Jones for running the competition so efficiently. The prizes were presented by Jonathon Kermode on behalf of the sponsors Spar.