Castletown A take the 'Ismay Cup'.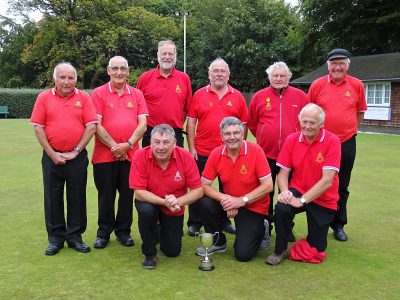 On Wednesday 16th August Castletown A and North Ramsey A met at the 'Villa' to play the 2017 Men's over 60's Ismay Cup Final.
It was North Ramsey A who took the early lead with a strong performance from John Cannan giving him a 21-1 win over Jimmy Young.
Games 2,3 and 4 however saw a spirited comeback from Castletown A with Peter Oates beating Tony Smart 21-9, Ron Williams beating Brian Colquitt 21-13 and Mike Hargraves despatching Ray Skelly 21-9 making the score 3-1 to the Southerners.
Steve Gill chalked up a win for North defeating George Peach 21-18 however, Mike Skelly battled lost out to George Foy 21-17 leaving the Northerners needing to win all the remaining games to lift the Cu.
Geoff Porter dug deep to take a 21-20 victory from Dave Faragher and it looked possible but a competent show from Colin Holland to beat George Monk 21-13 gave the Match to Castletown A.
In the last remaining game Jimmy Moffat of North Ramsey beat Derek Lewney 21-20 to give an overall score of 5-4 to Castletown A.
Many thanks to the Host Club, Douglas Bowling Club for all their help, especially Malcolm Black and Paula Garrett for their excellent measuring and to John Ryder, Jeff Wilson and Ken Karran from the Over 60's League for their help.