Canada Life International Rayner Shield Final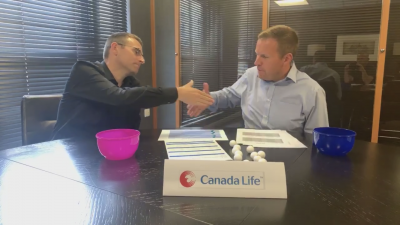 Friday night sees the Associations top team event the Rayner Shield come to a conclusion with the final taking place at the Villa between the top two teams, South Ramsey A and Marown A.
South Ramsey reached the final with four home games, nearly coming unstuck in the first round on what at the time was a poor South Ramsey green against Port St Mary A, before eventually getting through 5-3. In the next round they took on North Ramsey B recording a 8-0 home win, then in the quarter finals recorded 7-1 home win over Castletown B with undoubtedly one of the individual games of the season to watch between David Bradford and Bob Clark with Clark edging it 21-20. By the time the semi-final came around South Ramsey had improved to such an extent it is now one of the best surfaces to play on the island once again, the home team took on Onchan A and ran out 6-2 winners on a blustery evening to book their place in the final, however Onchan battled well cruelly losing three games 20-21 on the night.
Marown's route to the final was less complicated starting with an 8-0 home win over third division side Peel D, then a visit to the sunset city to take on Peel B resulted in a 1-7 away win. Marown took their place in the semi-final with a 8-0 home win over Finch Hill A, they made no mistake with their 2-6 away win over South Ramsey B to reach the final.
Current holders Marown have won the Rayner Shield 16 times, start as slight favourites due to their huge 12 point lead over their opponents, however South Ramsey have won it three times with their last two wins coming back to back in 2015 & 2016, they know that they can beat Marown after recently visiting Crosby taking a 5-3 win on games, before agonisingly losing out on the aggregate by just one chalk. The final takes place at the same venue that Marown won one of the best finals in recent history in 2017 with the Crosby men winning 5-3 on the night against South Ramsey, with this still no doubt fresh in the mind both teams will be hoping to use this to spur them on.
Best of luck to both teams for what should be a superb encounter, with the weather set to be ideal conditions it should make for a great evening in the Manx bowls calendar.
Draw & Order Of Play
| | | | |
| --- | --- | --- | --- |
| 1 | Stefan Kelly | vs | Dean Kipling |
| 2 | Chas Grills | vs | Neil Withers |
| 3 | Glynn Hargraves | vs | Phil Kelly |
| 4 | Dido Kelly | vs | Bobby Thorne |
| 5 | Alan Moore | vs | Paul Dunn |
| 6 | Peter Collister | vs | Colin Kelly |
| 7 | David Bradford | vs | Matthew Keggen |
| 8 | James Teare | vs | Paul Kelly |