Callum Cashes In At PokerStars Super 32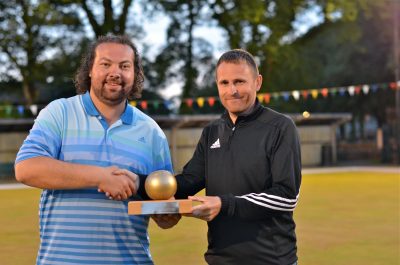 The PokerStars IOM Invitation took place on Friday evening with the event being hosted by South Ramsey Bowling Club at Noble's Park immediately after the conclusion of the IOM bowls festival. The change in venue allowed the field to increase from last years format of 16 to go back up to 32.
It was a strong field taking part with every player in the field having played county bowls. The format was 21 up with 3 on the card.
There was plenty of local interest in the first round, however Peel favourite Dave 'Barney' Kelly was beaten 15-21 by Andy Sorsby (South Yorkshire), Jordan Cain (Onchan) lost 14-21 to Kev Shaw (North Lancs & Fylde), whilst Marown captain Paul Dunn lost 13-21 to Craig Gant (Yorkshire).
Faring better were South Ramsey's David Bradford who won 21-13 against Dave Jackson (North Lancs & Fylde), Neil Withers made light work of Ian Nicholson (North Lancs & Fylde) with a 21-12 win, whilst Marown stalwart Colin Kelly seen off Richie Goddard (Shropshire) with a 21-10 win.
There were several close games in the first round with James Wilcox (Yorkshire) seeing off South Yorkshire rival Nick White 21-20, whilst another South Yorkshire man Paul Bailey got over the line 21-19 against Martin Gilpin (North Lancs & Fylde) after Gilpin recovered from a 12-19 deficit to level the game at 19-19, only for Bailey to take two singles to progress to the next round. Chris Barton (Merseyside) also lost out 19-21 to Jon Palmer (Shropshire), whilst another Merseyside man Danny Barwise lost 20-21 to 2018 British Merit Winner Chris Mordue (Yorkshire). Melvyn Byron (North Lancs & Fylde) recovered from a 14-19 deficit to win 21-20 against Nidge Hughes (Merseyside), whilst newly crowned June festival winner Jack Dyson (Yorkshire) held off Merseyside man Peter Jones 21-18.
In the second round Gareth Herbert (Warwick & Worcs) won a close game 21-18 against Sorsby to take his place in the quarter finals, whilst Bradford lost out 18-21 to Dan Jones (Wales) after recovering from a 10-16 deficit to go 18-16 ahead with eight singles before Jones got back in to finish the game. Paul Bailey came back from 11-19 to run out with a 21-19 victory over Jon Palmer. In an all Yorkshire clash Gant lost out 19-21 to Chris Mordue, whilst Byron lost 18-21 to Dyson.
At the quarter final stage it was all visiting bowlers who had progressed, in the top half of the draw Herbert lost 19-21 to Dan Jones, whilst Wilcox lost out for a second year running to Callum Wraight (Shropshire) 17-21. In the bottom half of the draw Paul Bailey ran out from 11-11 against Mordue to win 21-11 to take his place in the semi-finals, whilst Dyson won 21-13 against John Bailey (Wales).
Both semi-finals could not have been any close with Wraight taking a 11-3 lead against Jones, only for Jones to level the score at 13-13. Jones then scored better than Wraight over the next nine ends to lead 20-18, only for Wraight to hit back to see the game out 21-20 to book his place in the final. In the second semi-final Dyson took a 13-8 lead, with Paul Bailey recovering to level the score at 14-14. Dyson then went 20-15 ahead, however Bailey managed to find a bit more in the tank to run out with a 21-20 win.
In the final there was plenty of striking and dead ends with Wraight and Bailey up against each other. It was Wraight who was quickest out of the blocks taking a 13-3 lead against Bailey, then led 16-7 and 19-10 under the fading light the floodlights had to be put on. Bailey then took three singles before Wraight retained the trophy and in doing so secured the £1,000 first prize with a double to win 21-13. Bailey will no doubt have been cheered up with his cheque for £500, with the losing semi finalists each receiving £250, and the losing quarter finalists taking home £125. Those who lost out in the second round took home £75 each.
At the conclusion of play the presentation was made by event organiser Glynn Hargraves, who thanked the sponsors PokerStars for their continued support, Noble's Bowling club, the Department for Enterprise and Douglas Corporation, all the players for what made for an entertaining evening of bowls, the spectators for turning up to support along with anyone who had helped in the running of the event.