Bolton & Quayle Win Port St Mary Cup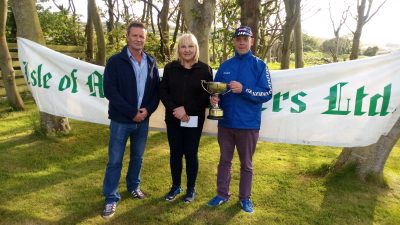 A total of 22 Pairs competed in this years Isle of Man Farmers sponsored Port St Mary Cup mixed doubles.
In the first quarter final, last years winners Paula and Stuart Garrettat 20-14 up against Lyn Bolton and Trevor Quayle looked like they would reach the semi-final again, however Lyn and Trevor went on a good run to win the match 21-20. The second quarter final Jenny Moore and James Teare beat Alec and Philippa Taylor 21-9. Jenny and James were in control of this match, only allowing Alec and Phillipa four single points. In quarter final number three, Wayne Roberts and Sue Gawne were in control and built up a 15-6 lead and lying two on the next end until Matthew played a great bowl to take the jack through and made a four. Matthew and Alison went on to win 21-17. Glynn Hargraves and Elaine Moore were up against Kim Hargraves and Stefan Kelly in the last quarter final. This was always going to be a 'friendly' game. The bragging rights going to Kim and Stefan this time winning a close match 21-18.
The first semi-final, Trevor Quayle and Lyn Bolton took on Jenny Moore and James Teare. Trevor and Lyn took charge of this match winning 21-12. The second semi-final was a bit closer with Kim Hargraves and Stefan Kelly winning a hard fought match against Matthew and Alison Keggen 21-16.
The final between Lyn Bolton and Trevor Quayle against Kim Hargraves and Stefan Kelly was a tight match early on. After 10 ends Lyn and Trevor were leading 11-10, this included two dead ends in which Stefan fired the jack off to keep them in the match. Lyn and Trevor then scored a single, four two's and a single to win 21-10.
The presentation was made by Mike Caley of Isle of man Farmers. Lyn and Trevor thanked Mike for their continued sponsorship, the ladies for their catering, Ray Watterson for the excellent green and everyone who helped to run the competition.