Barney Works Up a Thirst to Win Association Singles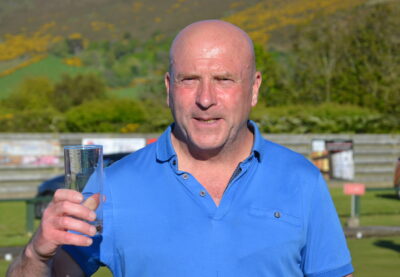 Ballaugh Bowling Club hosted the Association Singles on Sunday afternoon with the competition attracting 53 entries. The green has continued to improve and was in excellent condition for those taking part in what started in very wet conditions, however as the day went on the conditions improved to end in glorious sunshine.
Losing out in the quarter finals were Glynn Hargraves to South Ramsey teammate David Bradford 13-21, Derek Allen (Port Erin) to the same score with his defeat to Bob Clark (Castletown), whilst Neil Withers lost out to Marown teammate Matthew Keggen 19-21, with Phil Kerruish (Onchan) being beaten by Peel man Dave 'Barney' Kelly to the same score.
In the semi-finals Bradford, who had played consistently well all day was up against Clark, with the former continuing to play extremely well, however Clark had an answer for everything playing some great bowls to turn two down into a two for himself on more than one occasion with Bradford only being guilty of playing too well, it was Clark who edged a fantastic game 21-20 to take his place in the final. The other semi-final was also close throughout, with the game not up to the standard of the first semi-final it still had plenty of good bowls with Kelly doing enough to get over the line 21-19 against Keggen to reach the final.
In the final Kelly upped his game considerably to take eight of the first 11 ends playing his favourite corners, whilst keeping his opponent to singles throughout the match. Clark had no answer for Kelly, who went on to score two quick-fire doubles to seal a resounding 21-10 victory to claim the Association Singles title and the winner's prize of £100 for his efforts
The presentation was made by Association Competition Committee Officer Steve Moore, who thanked Ballaugh and their club members for hosting the competition and providing refreshments throughout the day.